Shuttle Unveils Hottest Small Form Factor PC Lineup Ever at Consumer Electronics Show
2008/12/08
Global / Event News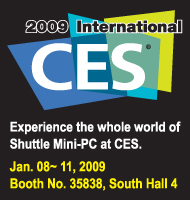 (City of Industry, CA. — December 8, 2008) Shuttle Inc. – the leading designer and
manufacturer of small form factor (SFF) computers and accessories – is unveiling its latest and most exciting range of products ever at the world's largest consumer electronics show, CES 2009.

Shuttle will host an 800 square foot showcase of its entire line of next generation solutions for the modern lifestyle. On-site workshops and presentations will be held to introduce the new and coming line of Shuttle solutions for digital signage, workstations, special projects, and more. Live builds will also be held to show how easy it is to put together a Shuttle PC, and on-hand experts will reveal special insider tips and tricks that save time, money, and headache.
At the show, Shuttle representatives from the product, sales, and global teams will be on hand to answer any questions regarding these new and upcoming solutions for the digital home, office, and beyond. Additionally, one-on-one product tours and meetings can be arranged in advance by emailing marketing@us.shuttle.com.

Come by the Shuttle booth for daily raffle prizes and these not-to-be-missed highlights:
The first Intel Core i7 small form factor:
Shuttle's H7 5800 was first unveiled at Intel's recent press event, and will be officially released at CES 2009. It's built on the Shuttle SX58H7 barebone – the new extreme flagship.

The new touch screen all-in-one:
Now with integrated touch screen monitor, available in classy black or elegant white, and 10.2 and 15.6 inch version. The new twist on the X Series will be unveiled to media and industry insiders for the first time at CES 2009.

The concept portable 7" touch panel:
Catch a glimpse of the mystery concept product in its pre-release glory. It looks like a portable gaming console, but is actually much, much more. It's designed to control your home entertainment, play simple games, and can even act as your future home automation remote.

The next generation SDXi Carbon:
Water-cooled with the first-ever Liquid I.C.E. cooling technology and custom wrapped and painted in a premium automotive level finish.
SHUTTLE BOOTH
Booth No. 35838, South Hall 4
Las Vegas Convention Center

SHOWCASE HOURS
9am – 6pm | Thu 1/8 – Sat 1/10
9am – 4pm | Sun 1/11

PRESENTATION HOURS
11am, 1pm, 3pm, 5pm | Thu 1/8
11am, 1pm, 3pm, 5pm | Fri 1/9
11am, 1pm, 3pm, 5pm | Sat 1/10

About Shuttle Computers
Established in 1990, Shuttle Computer Group Inc. is the American arm of the world renowned
Shuttle Inc. Based in Taiwan with an extensive worldwide network of subsidiaries, resellers,
partners, and suppliers, Shuttle Inc. is recognized as a premier manufacturer of motherboards and barebones systems. Shuttle Inc. has received numerous awards and accolades from independent media and analysts, affirming the superior quality of Shuttle products and services. Now, the legendary XPC showcases its capabilities with the new surveillance series.
CONTACT INFORMATION
Media and Marketing
Janice Chan
626.820.9000 Ext. 214
janicec@us.shuttle.com
Gaming and Reviews
Nicolas Villalobos
626.820.9000 Ext. 216
nicolasv@us.shuttle.com
---
O компании Shuttle
Компания Shuttle Inc. (код на фондовом рынке: 2405) занимается интеграцией программного и аппаратного обеспечения, а также IoT для решения коммерческих потребностей вертикального рынка. Компания производит мини-ПК, мультимедийные проигрыватели, решения digital signage, киоски, системы распознавания лиц и услуги кастомизации IoT под индивидуальный проект. Благодаря постоянным исследованиям новых технологий, используя опыт пользователей в качестве приоритета, Shuttle постоянно предлагает разнообразные решения, помогающие клиентам создавать больше возможностей для бизнеса.
Contact US
Marketing Dept.
No. 30, Lane 76, Rei Kuang Rd.,
Nei-Hu Dist., Taipei, Taiwan
Tel: +886-2-8792-6168
Fax: +886-2-8792-6268
E-mail:
shuttlepr@tw.shuttle.com