Accelerate Your Gaming Power
2008/11/14
Global / Product launch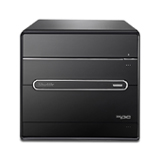 (Taipei, Taiwan, 14 Nov. 2008) Shuttle Inc. – the leading designer and manufacturer of small form factor (SFF) computers and accessories adds a new lineup – SP45H7 to its XPC Prima Series. The SP45H7 is designed to provide quality and flexibility to gamers who chase for high end gaming station.

Shuttle Prima SP45H7 features the Intel latest P45 Chipset, supporting the newest Intel Core™2 Quad Processors, DDR2 1066(OC), PCI Express™ Gen 2.0 architecture, 1600Mhz FSB, Serial ATA 3 Gb/s, 80 plus lower power consumption and fantastic system performance. Powerful, yet tranquil platform which produces less than 28dBs when runs heavy software applications. The XPC Barebone SP45H7 will totally win you over right down the line – whether as a workstation in a professional environment or with large graphics cards as a gaming cube.

As a leading brand of SFF, Shuttle Inc. continually develops the energy-efficient product to meet ENERGY STAR specification and make efforts on providing green solutions. The SP45H7 is Energy Star 4.0 labeled as well as 80 PLUS certified. It means the SP45H7 is equipped with more efficient external or internal power supply and expected to reach 65% energy efficiency than current computer and also meets at least 80% energy-efficiency, which is over 33% efficient than standard power supply.

For the latest information and specification on the Shuttle XPC Prima SP45H7, please visit our official Shuttle website: http://www.shuttle.com/


Technical Details
Shuttle XPC Prima SP45H7

* Intel P45+ICH10
* Core™2 Quad / Core™2 Duo/ Dual-Core/Celeron 400 series
* DDR2 667/800 (OC 1066) 16 GB max memory
* 7.1 HD Audio
* 1x PCI-E x16, 1x PCI
* Gigabit LAN
* 1X IEEE 1394, 12x USB 2.0
* 3x SATA2, 3x eSATA
* 300-Watt power supply
* 326(L) x 208(W) x 190(H) mm

About Shuttle Inc.
Established in 1983 and publicly listed since 2000, Shuttle Inc (TAIEX 2405) is an industry leading designer and manufacturer of small form factor (SFF) computers and accessories. Shuttle produced the first commercially-successful SFF computer and continues to define the segment with its platform defining XPC product line. Succeeding the high reliability and quality of SFF computers, Shuttle seeks to provide further rounded solutions for digital home applications.

---
O компании Shuttle
Компания Shuttle Inc. (код на фондовом рынке: 2405) занимается интеграцией программного и аппаратного обеспечения, а также IoT для решения коммерческих потребностей вертикального рынка. Компания производит мини-ПК, мультимедийные проигрыватели, решения digital signage, киоски, системы распознавания лиц и услуги кастомизации IoT под индивидуальный проект. Благодаря постоянным исследованиям новых технологий, используя опыт пользователей в качестве приоритета, Shuttle постоянно предлагает разнообразные решения, помогающие клиентам создавать больше возможностей для бизнеса.
Contact US
Marketing Dept.
No. 30, Lane 76, Rei Kuang Rd.,
Nei-Hu Dist., Taipei, Taiwan
Tel: +886-2-8792-6168
Fax: +886-2-8792-6268
E-mail:
shuttlepr@tw.shuttle.com