Shuttle Builds Up Digital Home Solution with D1416 Surveillance System
2008/09/12
Global / Product launch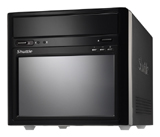 (Taipei, Taiwan, 12 Sep 2008) Shuttle Inc. has announced the debut of the Digital Home D1416 Surveillance System, marking the company's entry into the home technology market globally. Drawing on its strengths in the field of high reliability and quality of SFF computers and expanding them to a new level, Shuttle now has gone into new era by providing rounded solutions for digital home applications.

"With increasing demand of digital home solutions in a rapidly evolving environment, what consumers need is simple-to-operate and easy-to-manage device that can help them save time and money." said David Yu , chairman of Shuttle Inc. "Shuttle has put considerable effort into developing and integrating leading-edge technologies and targeted to facilitate digital appliances. We mark a major milestone for PC applications with the launch of the D1416 home surveillance system."

The D1416 is designed for user comfort and convenience with unique features:

Supporting up to 16 channels of real-time recording, the D1416 is designed to offer the utmost in flexibility to make surveillance operation easy for home users. Users can set a weekly recording schedule at will, and mark which hours of the day to record or not record at all. The selected video clips are all time stamped for future searching and playback.
The surveillance cameras can be set up in multiple locations for any area of your home. Home users are allowed to simultaneously monitor all cameras at one time and have the functional recording program if motion is detected. It is ideal for capturing any suspected images without wasting time searching.
The D1416 includes a 7-inch display with touch screen technology that enables users to operate simple-and-direct commands. Special designed graphic user interface identifies specific functions so that users can directly interact with the computer screen. It only takes one touch to secure your home.
The Shuttle D1416 is a worry-free security solution that users can keep an eye on things at home when away over network connections. Users can also receive real-time happenings or surveillance footage, for example when an intruder breaks into the house, an instant response is allowed to implement right away.
The dual display technology of Shuttle allows live and video playback to be viewed on separate monitors. Moreover, Shuttle's application menu also offers a variety of multimedia functions, including video, music, photography and much more to spice up monotonous surveillance tasks without missing any moments.
The D1416 features the leading technology that enables to restart the surveillance task after sudden destruction of electricity or system crash.
The D1416 supports up to 4 custom tailoring items on application menu and users are able to run quick access to programs according to actual needs.
For more information about D1416, please visit Shuttle website - www.shuttle.com


About Shuttle Inc.
Established in 1983 and publicly listed since 2000, Shuttle Inc (TAIEX 2405) is an industry leading designer and manufacturer of small form factor (SFF) computers and accessories. Shuttle produced the first commercially-successful SFF computer and continues to define the segment with its platform defining XPC product line. Succeeding the high reliability and quality of SFF computers, Shuttle seeks to provide further rounded solutions for digital home applications.

---
O компании Shuttle
Компания Shuttle Inc. (код на фондовом рынке: 2405) занимается интеграцией программного и аппаратного обеспечения, а также IoT для решения коммерческих потребностей вертикального рынка. Компания производит мини-ПК, мультимедийные проигрыватели, решения digital signage, киоски, системы распознавания лиц и услуги кастомизации IoT под индивидуальный проект. Благодаря постоянным исследованиям новых технологий, используя опыт пользователей в качестве приоритета, Shuttle постоянно предлагает разнообразные решения, помогающие клиентам создавать больше возможностей для бизнеса.
Contact US
Marketing Dept.
No. 30, Lane 76, Rei Kuang Rd.,
Nei-Hu Dist., Taipei, Taiwan
Tel: +886-2-8792-6168
Fax: +886-2-8792-6268
E-mail:
shuttlepr@tw.shuttle.com