Shuttle Brings Stylish Simplicity to Atom Platform
2008/08/28
Global / Product launch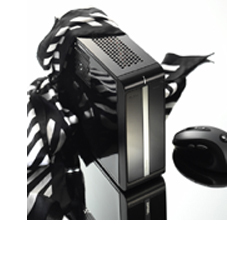 (Taipei, Taiwan, 27 Aug 2008) Shuttle Inc. – the leading designer and manufacturer of small form factor (SFF) computers and accessories presents a newly designed delicate-and-stylish solution – X27 to its new Slim PC lineup. The Shuttle X27 comes with Intel's revolutionary Atom processor which offers high performance and low power capabilities. Its sleek black finish outlook leads the style and fashion pack that exclusively crafted for the elegant side of users.

New Technology Offers the Lowest-Power Consumption
Shuttle X27 comes with an Intel Atom processor which offers high performance technology and low power capabilities. The X27 consumes only 24W when in idle mode and 36W in full load mode. As such, it is a smart way to adopt an energy-efficient PC to help users conserve power and save money at the same time.

Mini and Glossy Outlook
The X27 has a gorgeous glossy outlook with a mere 3-liter volume. The unique black piano mirror finish reflects high-quality touch of Shuttle PC lineup. With the X27, users can easily optimize work space while create a space-saving, yet stylish work environment conducive to productivity.

An Easy Access to Modern Technology
Creating an easy-to-use and relaxing computing environment is rather effortless. Enjoy the full-featured X27 and brighten every day by accessing to the internet, checking emails, approaching office applications, or simply enjoying multimedia entertainment.

Eco-green living
No more worry about loud noise from CPU fan. The X27 is an extreme silent PC which produces only 23 db when in both idle and full load mode. The reduction in power consumption is also a major issue of eco trends. All components of X27 follow strict standards of RoHS and green guideline. You are certainly able to concern about consumer citizenship while stay your exquisite taste with this chic gadget.

For the latest information and specification on the Shuttle X27, please visit our official Shuttle website: http://global.shuttle.com/

Shuttle X27 technical details:
* Intel Atom 230 CPU
* Intel 945GC + ICH7
* 1 x DDR2 533/667, up to 2GB max
* DVI+D-sub, 5.1 HD Audio
* Dual display capable
* 1 x 2.5"HDD, 1 x slim ODD
* 60W External Adapter
* 250(L)x185(W)x70(H) mm

About Shuttle Inc.
Established in 1983 and publicly listed since 2000, Shuttle Inc (TAIEX 2405) is an industry leading designer and manufacturer of small form factor (SFF) computers and accessories. Shuttle produced the first commercially-successful SFF computer and continues to define the segment with its platform defining XPC product line. Succeeding the high reliability and quality of SFF computers, Shuttle seeks to provide further rounded solutions for digital home applications.
---
O компании Shuttle
Компания Shuttle Inc. (код на фондовом рынке: 2405) занимается интеграцией программного и аппаратного обеспечения, а также IoT для решения коммерческих потребностей вертикального рынка. Компания производит мини-ПК, мультимедийные проигрыватели, решения digital signage, киоски, системы распознавания лиц и услуги кастомизации IoT под индивидуальный проект. Благодаря постоянным исследованиям новых технологий, используя опыт пользователей в качестве приоритета, Shuttle постоянно предлагает разнообразные решения, помогающие клиентам создавать больше возможностей для бизнеса.
Contact US
Marketing Dept.
No. 30, Lane 76, Rei Kuang Rd.,
Nei-Hu Dist., Taipei, Taiwan
Tel: +886-2-8792-6168
Fax: +886-2-8792-6268
E-mail:
shuttlepr@tw.shuttle.com