Shuttle Launches 4 New XPC Products at Computex Taipei 2006
2006/06/09
Global / Product launch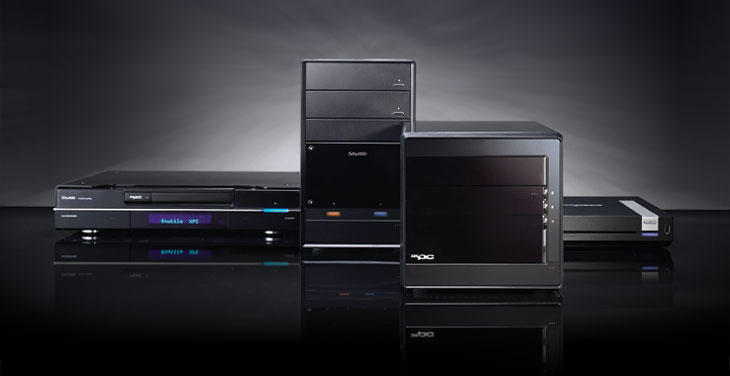 Shuttle has marked the first day of Computex Taipei 2006 by adding 4 new products to its industry defining range of XPC systems and barebones. Each of the new products has been specifically designed to meet the unique requirements of Shuttle's main target markets (media center, home, business and enthusiast) and contain numerous new features and design characteristics (including 3 completely new chassis) that have never been see before in the XPC range. Shuttle's Ken Huang, chief designer and architect of the XPC described the new additions as, "some of the most radical and innovative designs created by Shuttle, since the original XPC."


The new products are as follows:
Shuttle XPC Media Center M2000 – Viiv technology ready

Following the success of last year's M1000, the newest addition to the XPC Media Center range, the M2000, features Intel Viiv technology to deliver and great digital entertainment experience. The M2000 utilizes the Intel 945GT chipset and Core Duo CPU to power the features of Microsoft's Windows XP Media Center Edition operating system. The M2000 delivers rich and vivid visuals (DVD movies, TV, and gaming) powered by the NVIDIA GeForce 7600GS graphics processor and includes 7.1 channel high-definition audio capabilities for theater-like surround sound in the home. The M2000 can be configured with 2 analog or digital TV tuners enabling families to watch and record 2 of their favorite TV shows simultaneously, and comes with a comprehensive set of connectivity options including USB, FireWire and wireless LAN.


XPC X100 – ultra-small form factor

The XPC X100 sets a new standard in home computing. With a surface barely the size of an A4 sheet of paper or a magazine, and a height of only five centimeters, the XPC X100 is the smallest SFF PC ever from Shuttle. The system is configurable with Intel Core series processors (either single or dual core) and up to 2GB of DDR2 memory allowing the system to be tailored to meet the performance requirements of any home or office. The XPC X100 distinguishes itself from competing ultra-small form factor products through its support of larger capacity 3.5" hard disk drives and includes a dedicated graphics processor developed by ATI to deliver greater image quality and 3D performance than other systems on the market. The XPC X100 has been designed for easy connectivity to a range of common peripherals (such as digital cameras, portable music players, VoIP phones etc.) and includes multiple USB ports, FireWire, and a multi-format media card reader.
XPC SS31T – nanoBTX form factor

For businesses looking for a more traditional styled desktop but still want the benefits of a reduced size, the XPC SS31T is the solution. Based on the nanoBTX standard, the XPC SS31T utilizes standardized components (including power supply and thermal module) making it a low cost, easy to maintain system ideal for large installations in corporate, educational and similar settings. The XPC SS31T includes onboard audio and graphics, and is ready to accept Intel processors.
XPC SN27P2 – the performance leader

The new leader in the XPC enthusiast range, the XPC SN27P2 features the latest technology for the AMD platform. Powered by the new NVIDIA nForce 570 Ultra MCP, the XPC SN27P2 includes all the high-performance features that are required in a leading gaming system or high-productivity workstation (such as PCI Express x16 graphics, SATA 3Gb/s with RAID, eSATA, and Gigabit LAN.) The XPC SN27P2 is ready to support the recently released AM2 socket based Athlon 64 X2 and FX processors that feature DDR2 RAM capabilities, and the system can be configured with up to 8GB of memory in total (4 times the capacity of previous generation XPCs) making it ideal for high-memory-demand applications such as 64-bit software, high definition video, and games.

The launch of the XCP SN27P2 also marks the debut of Shuttle's P2 chassis design, which will be the basis of Shuttle's new high-performance XPC models. Similar in size to the original P chassis, the P2 features improved cooling and airflow, a redesigned drive cage assembly, and a sleek brushed metal front fascia.


Depending on local markets the new products can be expected to be available in stores in 3 to 4 weeks.

For more information visit the product web pages at:


http://global.shuttle.com/products/productsDetail?productId=189 - XPC SN27P2

http://global.shuttle.com/products/productsDetail?productId=95 - XPC SS31T

http://global.shuttle.com/products/productsDetail?productId=175 - XPC X100

http://global.shuttle.com/products/productsDetail?productId=95 - XPC Media Center M2000

---
O компании Shuttle
Компания Shuttle Inc. (код на фондовом рынке: 2405) занимается интеграцией программного и аппаратного обеспечения, а также IoT для решения коммерческих потребностей вертикального рынка. Компания производит мини-ПК, мультимедийные проигрыватели, решения digital signage, киоски, системы распознавания лиц и услуги кастомизации IoT под индивидуальный проект. Благодаря постоянным исследованиям новых технологий, используя опыт пользователей в качестве приоритета, Shuttle постоянно предлагает разнообразные решения, помогающие клиентам создавать больше возможностей для бизнеса.
Contact US
Marketing Dept.
No. 30, Lane 76, Rei Kuang Rd.,
Nei-Hu Dist., Taipei, Taiwan
Tel: +886-2-8792-6168
Fax: +886-2-8792-6268
E-mail:
shuttlepr@tw.shuttle.com