XPC X100 & SS30G2 are awarded Taiwan's Symbol of Excellence
2006/08/11
Taiwan / Award News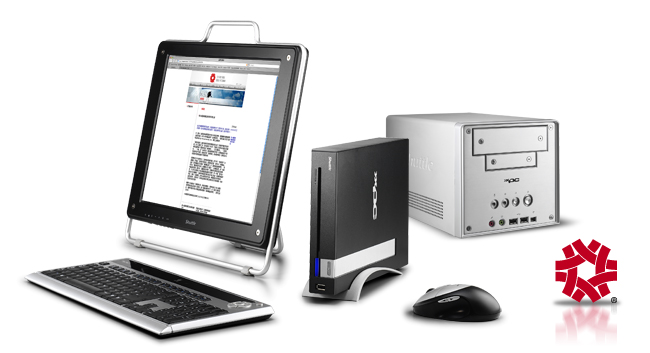 (Taipei, Taiwan — August 11, 2006) Since founded in 1993, Taiwan's Symbol of Excellence (SOE) Program has continued to inspire Taiwan local manufacturers. The award commits the R&D innovation, design innovation, quality system, marketing and brand awareness. The results have been truly outstanding and excellent. In fact the SOE symbol is now a globally recognized mark of exceptional quality and innovation. It's the 14th year of SOE; the panel of international judges scrutinizes the nominees, 318 winners are selected from 635 entries.
The award was granted in recognition of Shuttle XPC X100 and SS30G2, which both are the great innovative products.


XPC X100

Stand it up, or lay it flat. The XPC X100 features it's ultra small size but powerful performance. The minimalist and svelte design brings the user modern art to the home and office life. It can be easily set up to fit into any environment, whether it's standing vertically next on a bookshelf or laying flat on a desk. Unique from other small PCs, this is equipped with a 3.5" hard drive, versus most ultra-small-form factors that use 2.5" notebook drives. The additional ATI Mobility™ Radeon® X1400 graphics card supports the fantastic 3D gaming and high quality video playback.


XPC SS30G2

Utilizing the classic G2 chassis from which Shuttle gained fame, the XPC SS30 G2 supports the Intel® Pentium D single and dual cores, features DDR2, uses only 200w of power, contains a plethora of critical ports and comes in at 1/3 the size of tower desktop computers. Shuttle is dedicated to bringing to market the latest, greatest, and fast-performing products while staying conscious of the market trends. Great digital user experience that takes users to a higher level of computing for less should not be a challenge.

The both XPC X100 and SS30G2 have been styled and engineered to match the design and performance of Shuttle's industry leading XPC small form factor computers, creating a well coordinated, high-quality, complete system solution.

Go to http://global.shuttle.com/products/productsDetail?productId=175 & http://global.shuttle.com/products/productsDetail?productId=644 for more details.

For additional information about Shuttle and Shuttle products, please contact shuttlenews@tw.shuttle.com.


---
O компании Shuttle
Компания Shuttle Inc. (код на фондовом рынке: 2405) занимается интеграцией программного и аппаратного обеспечения, а также IoT для решения коммерческих потребностей вертикального рынка. Компания производит мини-ПК, мультимедийные проигрыватели, решения digital signage, киоски, системы распознавания лиц и услуги кастомизации IoT под индивидуальный проект. Благодаря постоянным исследованиям новых технологий, используя опыт пользователей в качестве приоритета, Shuttle постоянно предлагает разнообразные решения, помогающие клиентам создавать больше возможностей для бизнеса.
Contact US
Marketing Dept.
No. 30, Lane 76, Rei Kuang Rd.,
Nei-Hu Dist., Taipei, Taiwan
Tel: +886-2-8792-6168
Fax: +886-2-8792-6268
E-mail:
shuttlepr@tw.shuttle.com