Shuttle and OCZ Successfully Set an Exhibition at the 2006 OCZ APAC Summit
2006/12/11
Global / Event News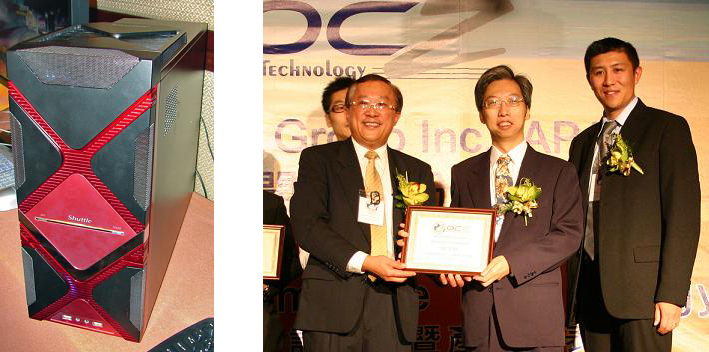 (Taipei, Taiwan – December 11, 2006) The world's leading designer and manufacturer of small-form-factor computers and accessories, Shuttle Inc., set a successful exhibition at the 2006 OCZ APAC Submit in New York New York Taipei, Taiwan, by 7 December 2006. In the exhibition, Shuttle presented XPC with various shapes from ultra-small form to large form, including thin and high performance model – X Series; professional and small model – P Series; and, the most eye-catching model – No. 9012, the latest gamine computer. These models proved Shuttle's ability of providing total solutions for different demands and situations.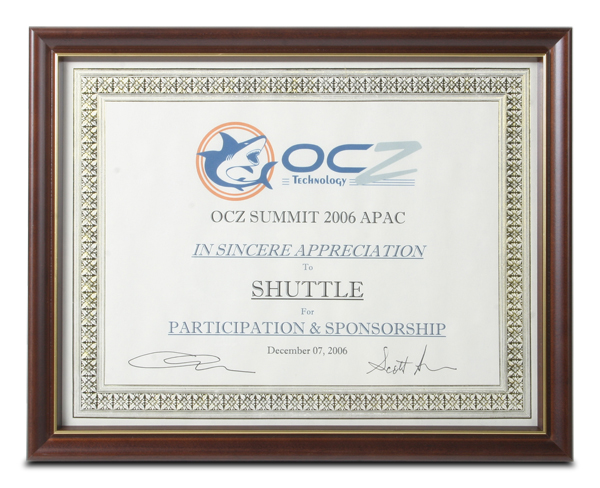 "At OCZ we are excited to cooperate with Shuttle, and the top industry platform partners to deliver advanced products and solutions," commented Alex Mei, VP of Marketing and Communications, OCZ Technology Inc. "The APAC Summit in Taipei is an opportunity for us to co-develop overclocking and gaming solutions on next generation platforms and ultimately deliver a superior total offering to consumers in all regions."
AnandTech reported that "Shuttle's contribution is the center piece of the kit, at least from an appearance perspective: an interesting case that is slightly larger than a mini-ATX tower, but it is fully capable of handling dual 8800GTXs on a full size ATX board. OCZ will be providing the memory, naturally, and a OCZ power supply could be a potential option depending upon the configuration. Future kits could also include an OCZ branded video card(s) and to complete the high performance system kit the user will only need to add optical and/or hard drives…………Shuttle also has a new SFF case/power supply design that can handle the GeForce 8800 GTX cards. Given the sheer size of such graphics cards, the XPC chassis was modified, and is now dubbed the "Supertuned" XPC. OCZ and Shuttle have been working closely together on this design and the motherboard will feature improved overclocking features and the case has an advanced thermal dissipation design. It's also not surprising that it will come with a larger power supply, given the requirements of a system sporting a high-end CPU along with a card like the 8800 GTX. The largest PSU we've seen from Shuttle in the past has been 400W, and we expect the new model should come with a 500W PSU or better.….." If you interest in AnandTech report, please visit http://www.anandtech.com/tradeshows/showdoc.aspx?i=2883


More Shuttle product information, please visit www.shuttle.com

---
O компании Shuttle
Компания Shuttle Inc. (код на фондовом рынке: 2405) занимается интеграцией программного и аппаратного обеспечения, а также IoT для решения коммерческих потребностей вертикального рынка. Компания производит мини-ПК, мультимедийные проигрыватели, решения digital signage, киоски, системы распознавания лиц и услуги кастомизации IoT под индивидуальный проект. Благодаря постоянным исследованиям новых технологий, используя опыт пользователей в качестве приоритета, Shuttle постоянно предлагает разнообразные решения, помогающие клиентам создавать больше возможностей для бизнеса.
Contact US
Marketing Dept.
No. 30, Lane 76, Rei Kuang Rd.,
Nei-Hu Dist., Taipei, Taiwan
Tel: +886-2-8792-6168
Fax: +886-2-8792-6268
E-mail:
shuttlepr@tw.shuttle.com