Turbo Charge Your Shuttle XPC
2005/07/20
Global / Product launch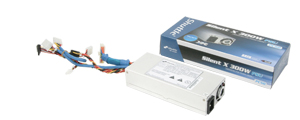 The PC50 provides the additional power needed to satisfy the demands of high power graphics cards and large capacity storage devices. It is the optimal solution for power users wanting to upgrade without compromising the stability, low-noise, and portability of the XPC.

"PC components, in particular CPUs, graphics cards, and storage, are continuing to grow ever larger and more powerful. The PC50 is the optimal solution for Shuttle and its customers to support the ever increasing demand for power placed upon XPC systems by the latest technological advances," explained James Chang, product director, Shuttle.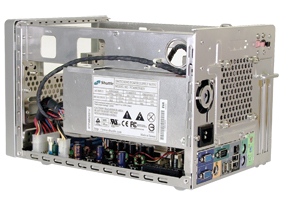 Typically, XPCs are fitted with a 200-250W power supply unit which is enough to satisfy the needs of most mainstream users. However, gamers and power-users who want to install high-end graphics cards and CPUs, need multiple hard disk and optical drives, or want to fine-tune the performance of their XPC with overclocking, will find that the additional power supplied by the PC50 improves the stability and expandability of these systems.

Also, the PC50 has been designed to reflect the growing trend towards SATA hard disk drives over older IDE ones. It includes 2 SATA power connectors in addition to its 3 molex and 1 FDD connectors, allowing it to support combinations of hard disks, optical drives, floppy disks and graphics cards.

The PC50 replaces the XPCs existing power supply with a simple '1, 2,3, Easy Install' procedure that can be performed by any end-user. All leads are designed to be the perfect lengths for the XPC. The result is a tidy case interior, something that is diffi cult to achieve with generic components, but is important for optimal cooling and system noise reduction.

Shuttle's Silent X technology has been incorporated into the PC50, ensuring that the increase in power output does not mean an increase in noise too. During testing, noise output levels of the PC50 were measure at less than 30dB.

Shuttle's complete XPC Accessories range comprises of over 20 items designed especially for the XPC. XPC Accessories give users the option to expand their XPC systems with connectivity, portability, or capacity upgrades as their computing needs change, without the need to replace their entire system.

For more information on the PC50 visit: click here.

The PC50 is expected to be available in several major markets - USA, Europe, Japan, Taiwan - in as little as two weeks. For local pricing and availability, please contact your Shuttle sales representative or Powered by Shuttle reseller.

---
O компании Shuttle
Компания Shuttle Inc. (код на фондовом рынке: 2405) занимается интеграцией программного и аппаратного обеспечения, а также IoT для решения коммерческих потребностей вертикального рынка. Компания производит мини-ПК, мультимедийные проигрыватели, решения digital signage, киоски, системы распознавания лиц и услуги кастомизации IoT под индивидуальный проект. Благодаря постоянным исследованиям новых технологий, используя опыт пользователей в качестве приоритета, Shuttle постоянно предлагает разнообразные решения, помогающие клиентам создавать больше возможностей для бизнеса.
Contact US
Marketing Dept.
No. 30, Lane 76, Rei Kuang Rd.,
Nei-Hu Dist., Taipei, Taiwan
Tel: +886-2-8792-6168
Fax: +886-2-8792-6268
E-mail:
shuttlepr@tw.shuttle.com