Shuttle gets serious with SLI XPC
2005/08/16
Global / Product launch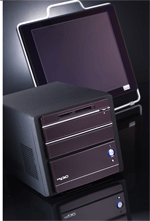 Shuttle Inc - the world's leading manufacturer of small form factor PCs and accessories - is once again expanding the possibilities of SFF. What many thought was impossible, Shuttle has made reality. With support for NVIDIA SLI, gamers everywhere have been dreaming about the new XPC SN26P.

"People often associate small form factor with reduced performance, limited compatibility, and propriety or integrated components," explained Ken Huang Chief Architect and Designer at Shuttle. "By solving the problem of fitting two full-sized high-performance graphics cards into an XPC chassis, Shuttle has once again demonstrated the unique award-winning design and engineering talent, that makes it the number one manufacturer of small form factor PCs in the world."

The XPC SN26P is all about performance, such that while support for SLI technology is its most impressive ability, this is only the highlight of an ultra-performance feature set. The nForce4 SLI based system includes ActiveArmor™ secure networking technology for gigabit Ethernet with hardware firewall, and MediaShield™ RAID capable of SATA 3Gb/s transfer rates. CPU support extends across the entire range of AMD socket 939 processors including Athlon™ 64, Athlon™ FX, and Athlon™ X2 dual core processors. The performance levels of the XPC SN26P are unmatched by any other small form factor system.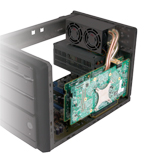 Designed to support two NVIDIA based PCI Express graphics cards working together, the XPC SN26P offers rendering performance levels previously incomprehensible from a SFF PC. To overcome the cooling difficulties that result from such high-end configurations, Shuttle, the master of heat-pipe technology with its ICE CPU cooling system, has developed a custom heat-pipe solution specially designed for SLI. Even when frame rates begin to soar the XPC SN26P is guaranteed to remain "Super quiet, Super cool."

After the enthusiastic reception at its debut at Computex 2005, preview designs based upon NVIDIA GeForce 6800GT cards have been distributed to various media for evaluation. Shuttle plans to further refine the product specification, and will release more details in Q4.
---
O компании Shuttle
Компания Shuttle Inc. (код на фондовом рынке: 2405) занимается интеграцией программного и аппаратного обеспечения, а также IoT для решения коммерческих потребностей вертикального рынка. Компания производит мини-ПК, мультимедийные проигрыватели, решения digital signage, киоски, системы распознавания лиц и услуги кастомизации IoT под индивидуальный проект. Благодаря постоянным исследованиям новых технологий, используя опыт пользователей в качестве приоритета, Shuttle постоянно предлагает разнообразные решения, помогающие клиентам создавать больше возможностей для бизнеса.
Contact US
Marketing Dept.
No. 30, Lane 76, Rei Kuang Rd.,
Nei-Hu Dist., Taipei, Taiwan
Tel: +886-2-8792-6168
Fax: +886-2-8792-6268
E-mail:
shuttlepr@tw.shuttle.com