Shuttle Launches 3 Product Series in Computex Taipei 2007
2007/06/05
Global / Company News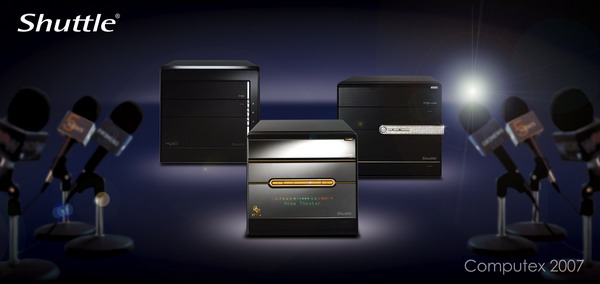 (Taipei, Taiwan — June 5, 2007) Shuttle launches 3 new product series with 6 models, including brand new – D'VO Series, repositioned classic XPC - XPC Prima Series and XPC Glamor Series in Computex 2007. Each of the new products has been specifically designed and refined to meet the users' unique requirement.
Shuttle D'VO Series
Experience true-to-life entertainment with Shuttle D'VO, your living room becomes an entire home theater! Shuttle D'VO simply and naturally fit in living room with fashion champagne gold strap crosses by black box panel, presenting elegant quality and low-profile luxury at home. Shuttle SG33G5M Deluxe, i.e. Shuttle D'VO features Intel® G33 Express chipset with integrated HDMI. Sit back and enjoy a complete entertainment experience with visually stunning HD video delivered through HDMI (HDCP) output and the finest cinematic surround sound effects delivered by Dolby® Digital Live! and DTS™ Connect 7.1 channel surround-sound functionality. Technologies in such high-definition playback and multi-channel mixing provide superior audio fidelity and flexibility.

Dolby® Digital Live technology is integrated, D'VO provides an S/PDIF connector and use a digital cable for one-step connection to a home theater system. Dolby® Digital Live can also enable other future entertainment capabilities on D'VO because of its ability to deliver any audio source via a single digital interface to an existing home theater system. DTS CONNECT is the latest technology by DTS that turns D'VO into an action packed entertainment experience that surrounds you in sound. D'VO affords a private movie theater at home; it's the best seat in the house for your favorite concert and the coolest way to play games, stereo CDs, MP3 and WMA music will present better multi-channel sound.

XPC Prima Series
As for the professional and distinct enthusiasts, precise and diverse product range afforded by Shuttle XPC Prima Series, providing a revolutionary hardcore platform for personalized work, life and play! To deliver a latest and very high-end computing performance, the Shuttle XPC Prima SX38P3 and SP35P3 Deluxe come to meet up the distinctly definite requirement. Featuring the latest FSB 1333MHz processor support and Shuttle's latest revolutionary technologies such as, Shuttle OASIS cooling technology, Speed-Link technology for fast and easy data transfer between 2 PCs, all solid capacitor designed motherboards and many more to mentioned.

The Shuttle SX38P3 Deluxe features the Intel® X38 chipset, with optimized system memory capabilities, chipset overspeed protection removed for maximum overclocking and Intel® Turbo Memory technology, providing faster boot and application load times and additional power savings. ATi CrossFire™ supports DirectX® 10, delivering the most hardcore platform with awesome performance.

The Shuttle SP35P3 Deluxe featuring the new Intel® P35 chipset, supports the latest Intel® multi-core processors up to FSB 1333MHz and upcoming 45nm platform. Users are able to take advantage of higher memory performance with less power consumption to run the even the most memory intensive applications such as high-definition video and 3D visualization with ease. To ensure personal document and information kept in safe, SX38P3 Deluxe and SP35P3 Deluxe considerately provide an added layer of security with the integrated biometric fingerprint recognition technology. Enjoy a life without cords with wireless connectivity provided by WiFi 802.11b+g or sync your images taken by mobile phone thru integrated Bluetooth. For the audio enthusiast, the Shuttle SX38P3 Deluxe and SP35P3 Deluxe features Intel® High Definition Audio, with heart pounding 7.1 channels surround sound, to deliver the most natural and engrossing multimedia entertainment and gaming experience available.
XPC Glamor Series
High-define your vision! For users who crave optimum PC, XPC Glamor Series is the code word of Shuttle art crafts. The three different styles chassis - elegant G5, the new luxury G6, and concise G2 are defined, no matter for home or office usage, for lively or refined people, everyone deserves to have their own XPC Glamor.

The XPC Glamor SG33G5, based on the Intel® G33 Express chipset, is designed for the upcoming Intel® 45nm Core™2 multi-core processors platform. Featuring Intel® Graphics Media Accelerator 3100 with Intel® Clear Video Technology functionality provides high-quality video playback and sharp image quality enables a richer graphics experience. Sit back and enjoy a complete entertainment experience with visually stunning HD video delivered through HDMI output and the finest cinematic surround sound effects delivered by Dolby® Digital Live! and DTS® CONNECT functionality.

The extraordinary chassis with glitter Swarovski Crystals strap panel embellishes the XPC Glamor SN68PTG6 Deluxe black cube surpassingly luxury and stare dumb-founded. Featuring the unprecedented performing integrated graphics solution on the market, the NVIDIA® GeForce® 7050 PV / NVIDIA nForce® 630a, the Shuttle SN68PTG6 Deluxe delivers extensive high-def video and audio capabilities to enable the latest high-definition digital multimedia systems. The Shuttle SN68SG2 is designed for the latest 65nm AM2 multi-core processor platform, the NVIDIA® GeForce 7025 chipset delivers best-in-class 3D performance and leading graphics compatibility to play top games the way they are meant to be played.

For more information visit the www.shuttle.com, Computex 2007 web page.
Shuttle Inc. Headquarter Media Contact: shuttlepr@tw.shuttle.com

Shuttle Booth
E067, E069, E084, E086, Hall 2, Taipei World Trade Center
9:30 am – 6:00pm, June 5 – 8, 2007
9:30 am – 4:00pm, June 9, 2007

Shuttle VIP Lounge
6F, New York New York Shopping Mall
9:30 am – 6:00pm, June 5 – 8, 2007

Shuttle Press Conference
6F, New York New York Shopping Mall
1:00pm – 3:30pm, June 7, 2007
---
O компании Shuttle
Компания Shuttle Inc. (код на фондовом рынке: 2405) занимается интеграцией программного и аппаратного обеспечения, а также IoT для решения коммерческих потребностей вертикального рынка. Компания производит мини-ПК, мультимедийные проигрыватели, решения digital signage, киоски, системы распознавания лиц и услуги кастомизации IoT под индивидуальный проект. Благодаря постоянным исследованиям новых технологий, используя опыт пользователей в качестве приоритета, Shuttle постоянно предлагает разнообразные решения, помогающие клиентам создавать больше возможностей для бизнеса.
Contact US
Marketing Dept.
No. 30, Lane 76, Rei Kuang Rd.,
Nei-Hu Dist., Taipei, Taiwan
Tel: +886-2-8792-6168
Fax: +886-2-8792-6268
E-mail:
shuttlepr@tw.shuttle.com