Shuttle Focuses on Smart Applications, Launches a Variety of Hardware and Software Solutions during Computex 2019
2019/05/25
Global / Event News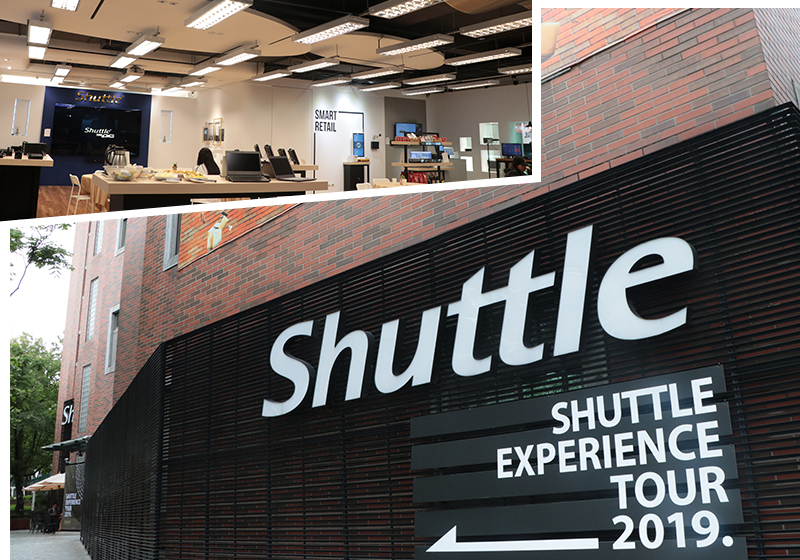 Shuttle Inc. (TAIEX: 2405), the leading solution provider of small form factor computer and face recognition technology, opened its new showroom at headquarters during Computex, showcasing its new range of XPC mini-PC, face recognition and video streaming product lineup. Technology on display includes an industrial rugged platform for AI edge computing – EN01, the integrated shelf signage with facial recognition – D230, streaming PC with video capture functionality – NC03B, and 300-series mini PC line for Intel 9th gen processors, and a variety of integrated Kiosk solutions using face recognition for retail and office environments.

In the upcoming 5G era, the potent combination of big data, AI and the IoT will change the world. Known primarily for its small form design, enhanced thermal efficiency, and high system stability, Shuttle's XPCs have taken in the preparation of the new market. With upgraded support for peripherals expandability, wireless connectivity, and the 9th gen Intel processors, Shuttle XPCs meet the increased requirements of AI-enable edge computing, IoT devices, and sensor technology, enabling users to create smart solutions of their own.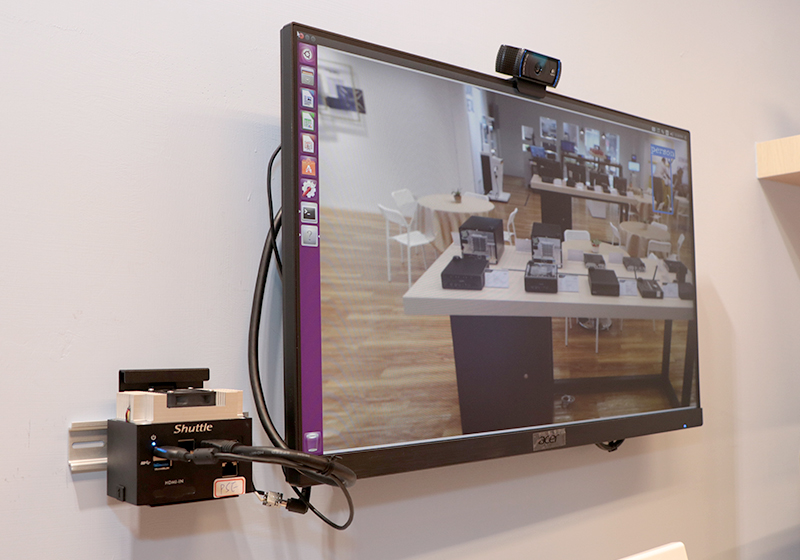 EN01 Series
With a body of just 9.24 x 5.54 x 9 cm, the EN01 series features a rugged design for applications in a wide temperature operating environment. Based on the Intel® Apollo Lake platform, it offers expansion possibilities for M.2 SSD and capture card as well as IoT applications for 4G LTE and more. Featuring small size, wide operating temperature with high-performance computing, the EN01 series enables AI learning-based visual analysis for edge applications. Considering high graphics performance needs, Shuttle also provides the NVIDIA Jetson TX2 platform for option.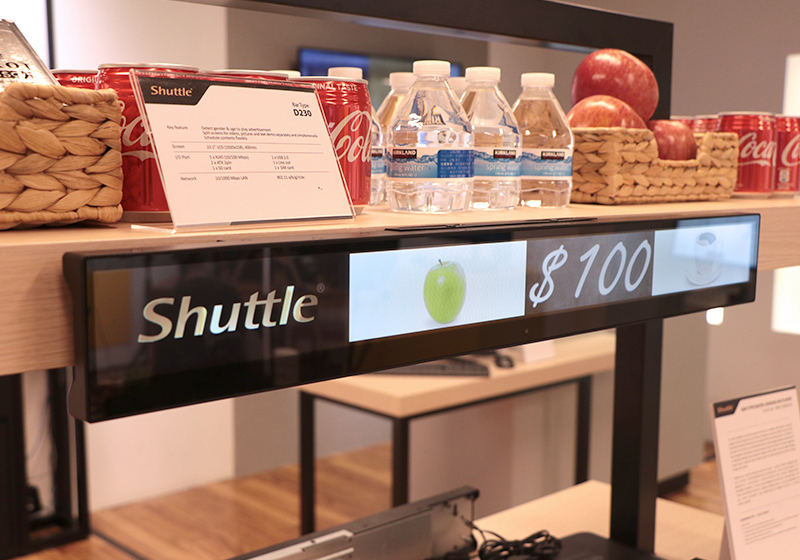 D230
With its advanced facial imaging and bar-type design, the D230 is an integrated shelf signage solution tailored for retail sectors. The platform utilizes a 23.1" bar-type display combined with facial recognition intelligence and 2M pixel camera to play optimal videos, provide customer insights, and allow for content triggering on detected age and gender. Together with exclusive signage software, it supports simple, flexible control for users to manage content and screens.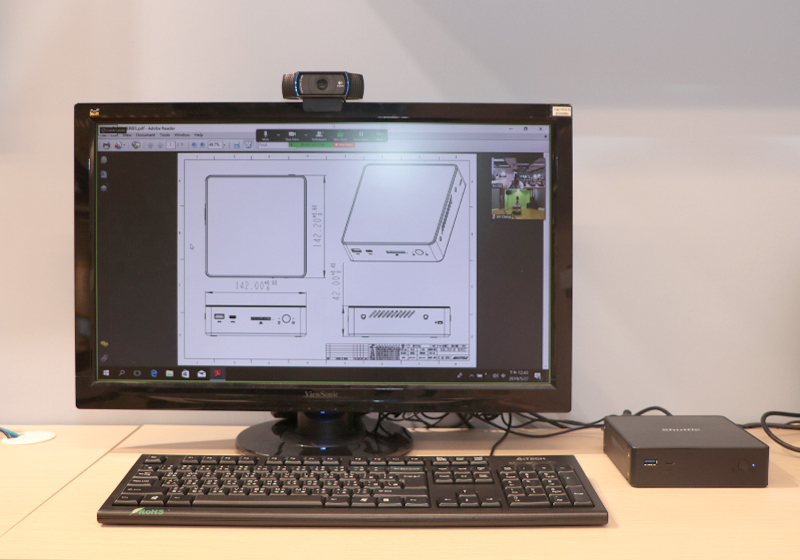 NC03B
Equipped with an Intel® Core™ i5/i7 processor and HD Graphics 620, the NC03B integrates superb video capture functionality with H.264 encoding that allows editing and streaming 1080p video at up to 60 fps. Combined with low voltage, high frequency, and excellent graphics performance, the NC03B is suited for live streaming and online applications in video conferencing, e-learning, and education.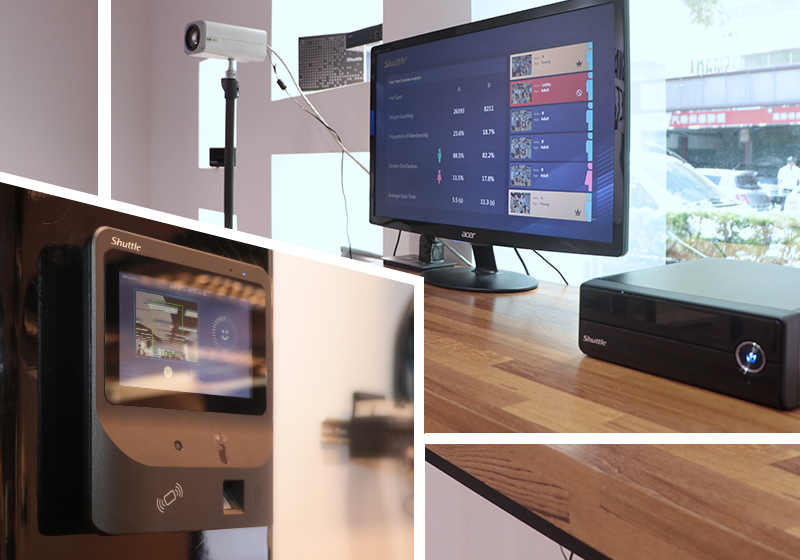 Face Recognition
Shuttle offers facial recognition solutions that include AIO system and IP Cam-based software. Built with Shuttle's powerful face engine, the software solution detects specific facial features, recognizes human activities as well as gender and age. In addition to access control and attendance management for high-security requirements, it also extends its applications such as audience analytics and blacklist/ whitelist management.


Shuttle HQ Showroom –
No.30, Lane 76, Rei Kuang Rd. Nei-Hu Dist., Taipei, Taiwan
09:30 – 17:30, May 27 – 31

---
O компании Shuttle
Компания Shuttle Inc. (код на фондовом рынке: 2405) занимается интеграцией программного и аппаратного обеспечения, а также IoT для решения коммерческих потребностей вертикального рынка. Компания производит мини-ПК, мультимедийные проигрыватели, решения digital signage, киоски, системы распознавания лиц и услуги кастомизации IoT под индивидуальный проект. Благодаря постоянным исследованиям новых технологий, используя опыт пользователей в качестве приоритета, Shuttle постоянно предлагает разнообразные решения, помогающие клиентам создавать больше возможностей для бизнеса.
Contact US
Marketing Dept.
No. 30, Lane 76, Rei Kuang Rd.,
Nei-Hu Dist., Taipei, Taiwan
Tel: +886-2-8792-6168
Fax: +886-2-8792-6268
E-mail:
shuttlepr@tw.shuttle.com