Shuttle Announces Quividi Partnership to Bring Industry Standard Audience Analytics to its Digital Signage Players
2017/09/11
Global / Company News
Aug 31, 2017, Taipei, Taiwan- Shuttle announces its partnership with Quividi, the industry standard for Audience Analytics in digital signage, to offer Quividi-compatible digital signage players.
Created in 2006, Quividi provides a privacy protecting computer-vision technology that helps screen networks, retailers, and brands finely measure and classify their audience. The system determines, in real time, the number of viewers, broken down by demographics (age, gender), facial attributes (glasses, beard) and mood, as well as the opportunities to see, and the viewers' attention time. Retailers and brands can also design customer-engaging experiences, by contextually triggering content against Quividi's real-time analytics (i.e. dynamically display a content on a screen if a customer is female, wearing glasses and/or smiling...).
Shuttle's DH110 media player has been officially tested by Quividi, ensuring its full capability of running Quividi's VidiReports software in a single screen/ single camera mode, as well as in a dual screen/ dual camera mode.
Built-around Intel® H110 chipset, Shuttle's DH110 is a versatile, high-performance XPC slim which supports Intel® Skylake LGA1151 65W processors. With Intel® built-in HD graphics engine, the DH110 can support 4K UHD content playback on up to two screens via HDMI and DisplayPort. Featured with Shuttle's exclusive heat-pipe cooling module with smart fan, the DH110 can run reliably cool and stable for a long time operation.
"Quividi provides digital signage networks with unique audience analytics, helping them optimize their communication and customer engagement," said Andy Cheng, Sales Vice President, Shuttle, "The combination of Quividi's affordable and easy-to-deploy audience measurement software with Shuttle strong processing performance XPC makes for a highly valuable offering to digital signage applications."
"The partnership with Shuttle, a global leader with an extensive network of subsidiaries, resellers, partners, and suppliers, perfectly aligns with Quividi's vision to bring computer-vision technology to every screen," said Ke-Quang Nguyen-Phuc, CEO Quividi. "We are looking forward to designing with Shuttle new vertical applications".
The 43mm form-factor of the DH110 is one of the powerful and scalable media player models of Shuttle XPC slim family. With VESA Mount capability and built-in USB 2.0, USB 3.0, RS232/422/485, and PS/2 interfaces, this allows broader connectivity options and more diverse applications to digital signage and kiosk.
The future of Shuttle and Quividi lies beyond the co-operation on the DH110 player. The two companies will build tighter links to continue in their endeavor to add value to digital signage customers.

About Shuttle – www.shuttle.com

Established in 1983, Shuttle Inc. is headquartered in Taiwan with an extensive worldwide network of subsidiaries, resellers, partners, and suppliers. It is recognized as an industry-leading designer and manufacturer of small form factor (SFF) computer and continues to develop the segment with its platform-defining XPC product lines, Shuttle has received numerous awards and accolades from independent media and analysis, affirming the superior quality of its products and services.
LinkedIn:https://www.linkedin.com/company/85824
Press Contact
Tina Chang, Marketing Manager – Shuttle: shuttlepr@tw.shuttle.com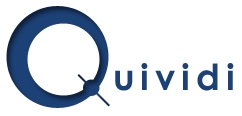 About Quividi - www.quividi.com

Quividi's In Real-Time & In Real Life data unlock the full potential of programmatic trading and contextual advertisement for screen network operators, agencies and advertisers.
Created in 2006, Quividi is the industry standard for Audience and Attention Analytics in DOOH with over 500 end-customers and 900 million people analyzed every month in 50+ countries. Quividi's computer-vision technology measures MRC-compliant viewability and views, which elevate DOOH to the most accountable digital medium available today. Its creative and marketing suite also enables campaign creation and optimization, based on context and audience engagement (demographics, mood, environment…).
Quividi's solutions fully respect privacy, they never store any face images or collect any biometric identifiers and personal data.
Twitter: @quividi
LinkedIn: https://www.linkedin.com/company/quividi

Press Contact
Denis Gaumondie, Chief Marketing Officer - Quividi: dgaumondie@quividi.net

---
O компании Shuttle
Компания Shuttle Inc. (код на фондовом рынке: 2405) занимается интеграцией программного и аппаратного обеспечения, а также IoT для решения коммерческих потребностей вертикального рынка. Компания производит мини-ПК, мультимедийные проигрыватели, решения digital signage, киоски, системы распознавания лиц и услуги кастомизации IoT под индивидуальный проект. Благодаря постоянным исследованиям новых технологий, используя опыт пользователей в качестве приоритета, Shuttle постоянно предлагает разнообразные решения, помогающие клиентам создавать больше возможностей для бизнеса.
Contact US
Marketing Dept.
No. 30, Lane 76, Rei Kuang Rd.,
Nei-Hu Dist., Taipei, Taiwan
Tel: +886-2-8792-6168
Fax: +886-2-8792-6268
E-mail:
shuttlepr@tw.shuttle.com