Shuttle COMPUTEX 2015 with multi-innovative applications
2015/06/12
Global / Event News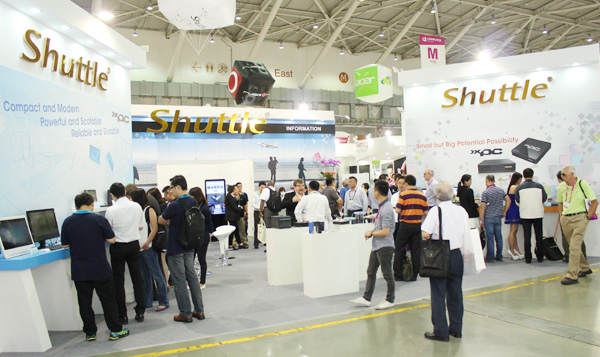 The 35th edition of Computex, the world's second largest IT fair was just closed on last Saturday. According to COMPUTEX, this show was attracted more than 38,000 international buyers from 165 countries. Shuttle was excited to demonstrate its a variety of powerful XPC cube and Slim PCs for vertical use, debut product member XPC nano, new All-in-One PC for POS/POI applications, and HR70 facial recognition system as well as the updated EDUPAL® education and new SMARTVILLE™ smart home solution. Shuttle's ODM business displayed its NB, 2-in-1 devices, and new 4G/LTE Phablet board-level solution.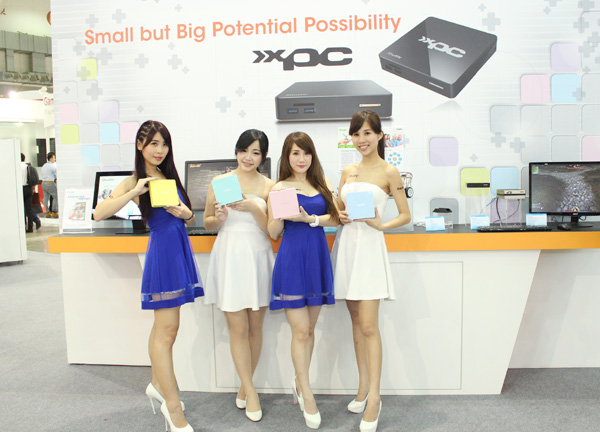 XPC nano: New Product Member Features Ultra-Thin
As the pioneer of small form factor PC, Shuttle unveiled its brand new 0.5-liter product line with stunning appearance and colorful outlook during this year COMPUTEX. There were two SKUs of NC series and NS series, featured with multiple I/O connectivity: HDMI, mini DisplayPort, USB 2.0/3.0, RS232, Gigabit LAN, WiFi, and Bluetooth. In addition, XPC nano had a plenty SKUs of CPU options: Atom™, Celeron®, and Core™ i3/ i5/ i7 to meet different applications, including home, office, as well as vertical market.

In order to enhance 3D performance, the NC series also allowed user to easily enhance graphics capability by adding an AMD Radeon™ R7 M300 Series Graphics discrete box. The series uses new 28nm GNC architecture with powerful 3D graphics performance. The series can support Windows 10 as well as optimized performance for next-gen APIs (Vulkan™, DirectX® 12, Mantle, OpenGL 4.4) for gaming and multimedia processing.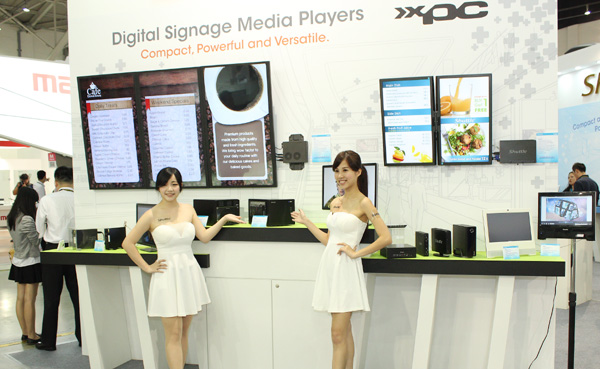 Powerful XPC Slim PCs for multi-applications
In XPC, we had DS87 for three independent displays. Also, new fan-less slim PC DS57U series supported Broadwell U platform for thermal testing as well as the XS35V5 and XS36V5 supported Braswell processors for digital signage application. In addition, Shuttle tried to show our new application with 13-liter XPC cube. By tiny change mechanism design with the same size, we had our new XPC cube to install four 3.5" HDDs and support dual slot graphic card for high-performance 3D users. It can apply for disk arrays, video surveillance, storage server, and more. Shuttle also displayed an accessory that users can install a maximum of six 2.5" hard drives (or SSDs) on 5.25" ODD bay.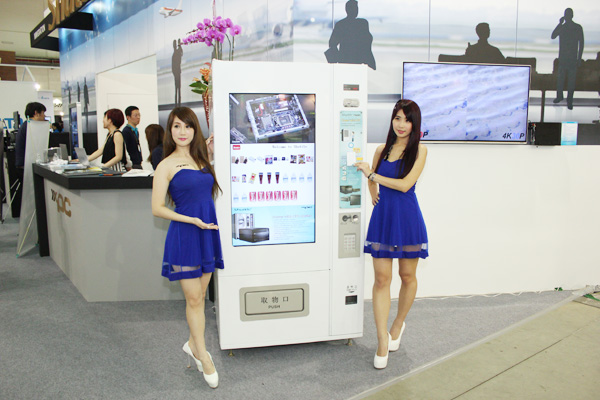 What's more? Shuttle was working with our partner to display self-service vending machine via our XPC solution. This vending machine not only could support multiple RFID cards, but also the touch screen was design with user-friendly interfaces.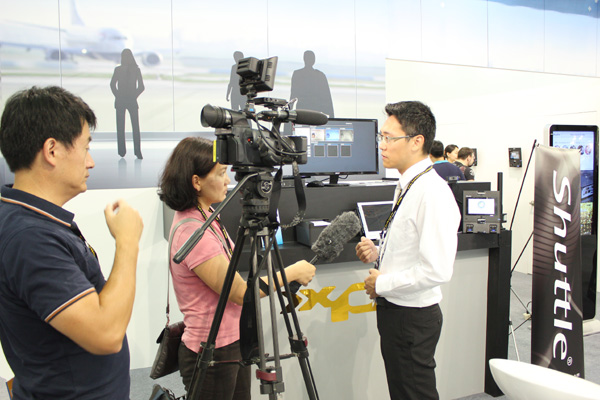 HR70 Facial Recognition Access Control System
Shuttle's facial recognition system HR70 now has been adapted by international harbors and airports in Taiwan, providing national immigration access control and security. Guests at our booth were interested to see Shuttle's HR70, the turnkey biometrics solution of its price range on the market. The HR70 provides highly accurate identification capability (accuracy up to 99.99%) and flexible customized UI. The system has the standard identification mechanisms of "facial recognition, fingerprint recognition, and RFID card reader", providing users a bi-or tri-functional identity for greater protection.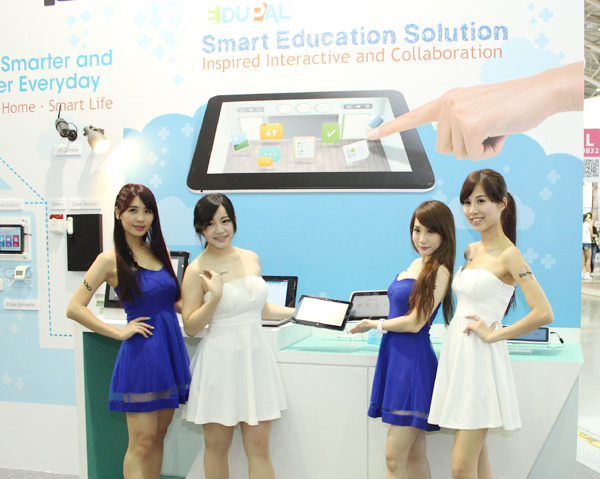 EDUPAL®: Smart Education Solution
EDUPAL® is the most holistic solution in today's education market. EDUPAL® classroom management system, an interactive classroom management platform, provides teachers with tools to manage classrooms, give quizzes, monitor and encourage students to build a collaborative skill.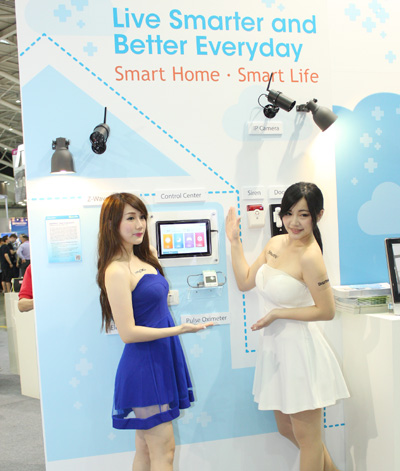 SMARTVILLE™: Smart Living Solution
In response to IoT trend, Shuttle launched SMARTVILLE™ smart living solution features easy installation and user-friendly interface for home use. It can be also use to enterprises, commercial environments, and schools. Shuttle will display home automation control, home security, and a variety of smart home new features during the show.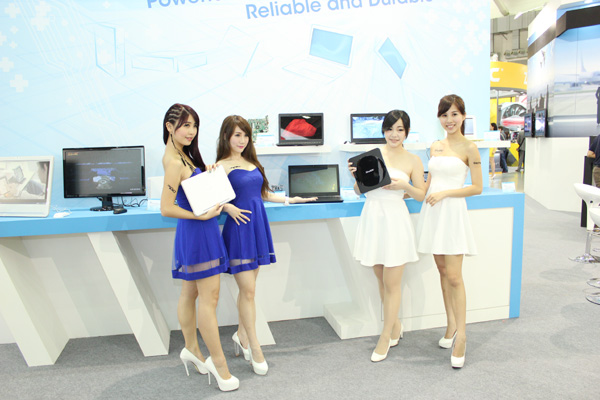 New Gen Motherboard Solution for ODM business
Shuttle's New Notebook Ecosystem is based on standard motherboard concept called SPA (Shuttle Standard PCBA) to provide customers a more competitive ODM service. This year Shuttle is going to introduce its new generation SPA motherboard which can create a variety of product lines, including NB with different size, and 2-in-1 as well as All-in-One PCs. The new SPA motherboard solution goes further expand the ODM product line, LOEM can be benefit with fast time-to-market lead time, reasonable cost and ample product combination to choose from.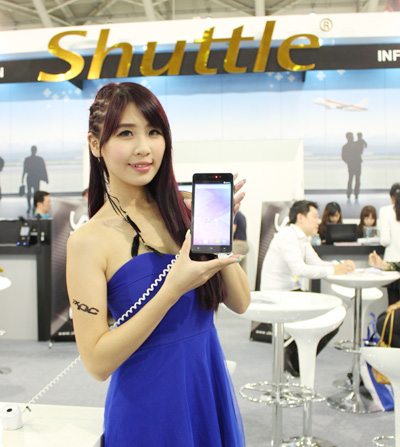 In addition, to response customers' need of 4G/LTE devices, Shuttle officially added Phablet into its ODM product line and displayed its motherboard solution during this year COMPUTEX.
---
O компании Shuttle
Компания Shuttle Inc. (код на фондовом рынке: 2405) занимается интеграцией программного и аппаратного обеспечения, а также IoT для решения коммерческих потребностей вертикального рынка. Компания производит мини-ПК, мультимедийные проигрыватели, решения digital signage, киоски, системы распознавания лиц и услуги кастомизации IoT под индивидуальный проект. Благодаря постоянным исследованиям новых технологий, используя опыт пользователей в качестве приоритета, Shuttle постоянно предлагает разнообразные решения, помогающие клиентам создавать больше возможностей для бизнеса.
Contact US
Marketing Dept.
No. 30, Lane 76, Rei Kuang Rd.,
Nei-Hu Dist., Taipei, Taiwan
Tel: +886-2-8792-6168
Fax: +886-2-8792-6268
E-mail:
shuttlepr@tw.shuttle.com