Shuttle launches AIO for outdoor kiosk and digital signage application
2015/01/05
Global / Product launch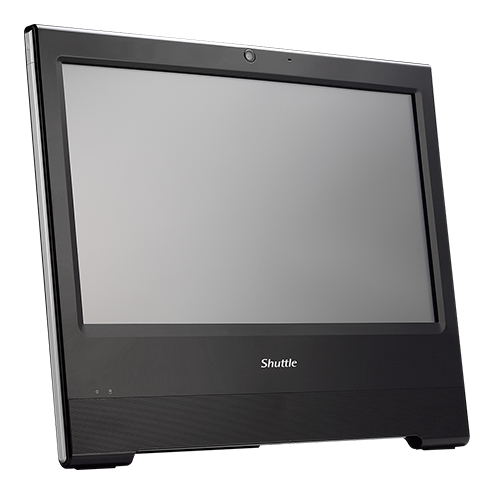 Shuttle Inc., the world's leading designer and manufacturer of small form factor computer technology announces an all new All-in-One (AIO) single touch PC for outdoor kiosk and digital signage use. The X50V4 is an IP54 certified dust and splash-water proof AIO with built-in Intel® Celeron® 2957U high-performance dual-core processor. Eliminating the need to purchase both display and media player, the X50V4 cuts down on costs and is perfect for single-touch kiosk and digital signage applications.
X50V4 supports three independent display, providing HDMI and D-sub interface to connect with two monitors in addition to the 15.6" panel of the device itself. It includes a built-in 2M pixel webcam for online conference meeting. The front panel features IP54 design for DOOH applications such as kiosks or digital signage in indoor public areas. With IP54 design, the device is protected against dust and splash water. The fanless design ensures 24/7 reliable and silent operation and is operable in 0-40 ⁰C ambient temperatures.
The X50V4 also features great connectivity. In addition to a full I/O interface, including USB 2.0, USB 3.0, and Realtek 8411 LAN ports, it provides optional COM ports (0V/5V/12V) and parallel port expansion cards (PCL71 or POS01), suitable to drive peripheral-heavy commercial applications.
Shuttle's X50V4 features a sleek black and white chassis design, made to fit into a variety of environments. It's both easily portable as well as VESA mountable. A sturdy metal handle with a plastic covered grip is mounted at the rear of the X50V4. The handle is foldable and can be used either as a desktop stand or for easy, one-grip portability. The device is also VESA mountable. Simply remove the metal handle at the rear and the device is easily mounted using a VESA mount.
For integrators looking to use the X50V4 in outdoor applications, the device comes with both an internal USB 2.0 port as well as an alternative power button for security purposes. The internal USB port allows users to safely plug in USB connected devices without fear of theft or disruption of computer processing. Likewise, the device integrates an internal power button in addition to the main external power button; users can disable the external power button for application in publicly exposed places.
The all-new Shuttle X50V4 is currently being distributed globally. Click here to find out more.

---
O компании Shuttle
Компания Shuttle Inc. (код на фондовом рынке: 2405) занимается интеграцией программного и аппаратного обеспечения, а также IoT для решения коммерческих потребностей вертикального рынка. Компания производит мини-ПК, мультимедийные проигрыватели, решения digital signage, киоски, системы распознавания лиц и услуги кастомизации IoT под индивидуальный проект. Благодаря постоянным исследованиям новых технологий, используя опыт пользователей в качестве приоритета, Shuttle постоянно предлагает разнообразные решения, помогающие клиентам создавать больше возможностей для бизнеса.
Contact US
Marketing Dept.
No. 30, Lane 76, Rei Kuang Rd.,
Nei-Hu Dist., Taipei, Taiwan
Tel: +886-2-8792-6168
Fax: +886-2-8792-6268
E-mail:
shuttlepr@tw.shuttle.com