Shuttle offers a powerful triple-display Mini PC-SH97R6
2014/10/31
Global / Product launch
Shuttle Inc., the world's leading designer and manufacturer of small form factor (SFF) computers today announced the launch of its new 9 series model. The SH97R6 is equipped with Intel® H97 Express chipset and supports Intel® Haswell and Haswell Refresh processors, integrating new Intel® HD Graphics that support to play 4K/Ultra HD video content. It features support for three independent displays and is suitable for both home and vertical market use. The SH97R6 can be used as either a powerful and energy-efficient desktop PC or a high-performance mini-server.

Shuttle's SH97R6 supports Intel® fourth-generation Haswell/Haswell Refresh Core™ i3/i5/i7, Pentium®, and Celeron® processors. The Core™ i3/i5/i7 processors are integrated with Intel® HD Graphics series and support DirectX 11.1 which can support 4K Ultra-HD video content. The SH97R6 is capable of delivering 4K video content on single screen or Full HD on up to three independent screens via built-in two DisplayPorts and one HDMI.
*Intel® Pentium® and Celeron® processors built-in Intel® HD graphics cannot support 4K video playback capability.

Shuttle's XPC series features great expandability. The SX97R6 provides one PCI-E x16, one PCI-E x4, and two mini PCIe slots. Use PCI-E x4 to install multi-display graphics cards, monitor cards, RAID cards, or WIFI module and drive video wall, network video recorder, file server applications and more. This compact system also supports two Mini PCI-e slots which can be used for various applications such as mSATA SSD and WLAN module.

Another key feature of the SH97R6 is its storage capacity. Shuttle's XPC series reserves space for installation of one ODD and two 3.5" hard disks. With optional PHD3 accessory users can install a maximum of four 2.5" hard drives (or SSDs). The SH97R6 supports Intel® Rapid Storage Technology and RAID 0/5/10 disk array operation modes for faster data access rates greater data protection.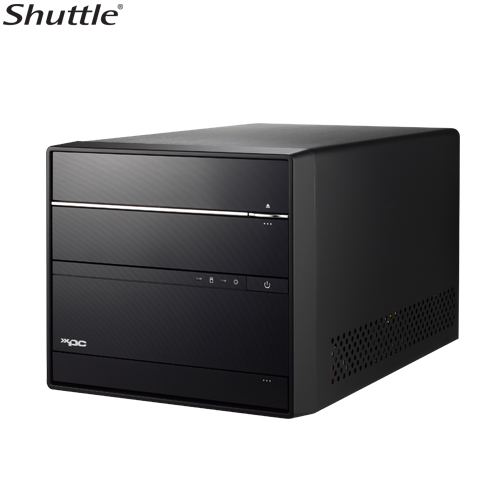 The Intel® H97 Express Chipset supports Gigabit LAN, SATA 6Gbps, and USB3.0 high-speed storage interfaces, providing superb data transfer speed. Use BIOS to set up the Wake-on-LAN function so that users can power-on from sleep mode, rest mode, or when powered off via the internet; the device also supports Power-On by RTC function. Users can set automatic 'Power On' by RTC via BIOS and also turn on and off with the Windows task scheduler.

The SH97R6 is also equipped with an 80 PLUS Bronze certified 300W power supply and Shuttle's exclusive I.C.E. 2 heat pipe technology for highly energy-efficient and stable long-term operation.

---
O компании Shuttle
Компания Shuttle Inc. (код на фондовом рынке: 2405) занимается интеграцией программного и аппаратного обеспечения, а также IoT для решения коммерческих потребностей вертикального рынка. Компания производит мини-ПК, мультимедийные проигрыватели, решения digital signage, киоски, системы распознавания лиц и услуги кастомизации IoT под индивидуальный проект. Благодаря постоянным исследованиям новых технологий, используя опыт пользователей в качестве приоритета, Shuttle постоянно предлагает разнообразные решения, помогающие клиентам создавать больше возможностей для бизнеса.
Contact US
Marketing Dept.
No. 30, Lane 76, Rei Kuang Rd.,
Nei-Hu Dist., Taipei, Taiwan
Tel: +886-2-8792-6168
Fax: +886-2-8792-6268
E-mail:
shuttlepr@tw.shuttle.com