Shuttle digital signage sells high-rise real estate
2014/06/26
Global / Case Study
It's the open house party for "The Portrait", a 30-floor luxury high-rise condo building in Bangkok, Thailand, and guests are eager to see the penthouse view from the top. The only problem is the building itself isn't scheduled to be completed until 2016 and the top floor is, well, currently non-existent. The Portrait works with Minted Images, an Interactive Agency and customer of Shuttle to find an innovative solution involving interactive signage, an iPad, and a helicopter.
Generating prospective residents before a building project is complete is a common challenge for today's real estate developers. Developers often have to work just as rigorously to garner investors as they do on constructing the property. The presale of property typically involves sitting down with customers and flipping through a hefty sales kit – often a large A4/A3 binder (or two) entailing the layout of each unit and the facilities.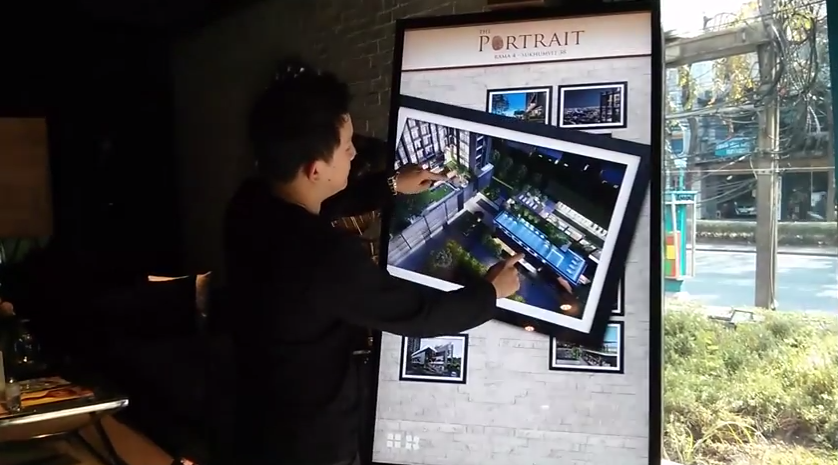 The Portrait, however, did away with old sales kits and switched to three digital showcases, each powered by Shuttle's DS61V1.1 media player. The first is a large-panel multi-touch kiosk where guests are able to flick, pinch, pan, and scroll through The Portrait's condos and the layout of the overall grounds all from a single screen.
With 333 units and a wide array of facilities, The Portrait has a lot of ground to cover. "We needed to provide our guests with a seamless experience that is easy to navigate," states Portrait Assistant Sales Manager, Mr. Santiganjanatorn, "something that gives prospective buyers a clear idea of what the homes will look like and does it with style." The multi-touch digital showcase does exactly that.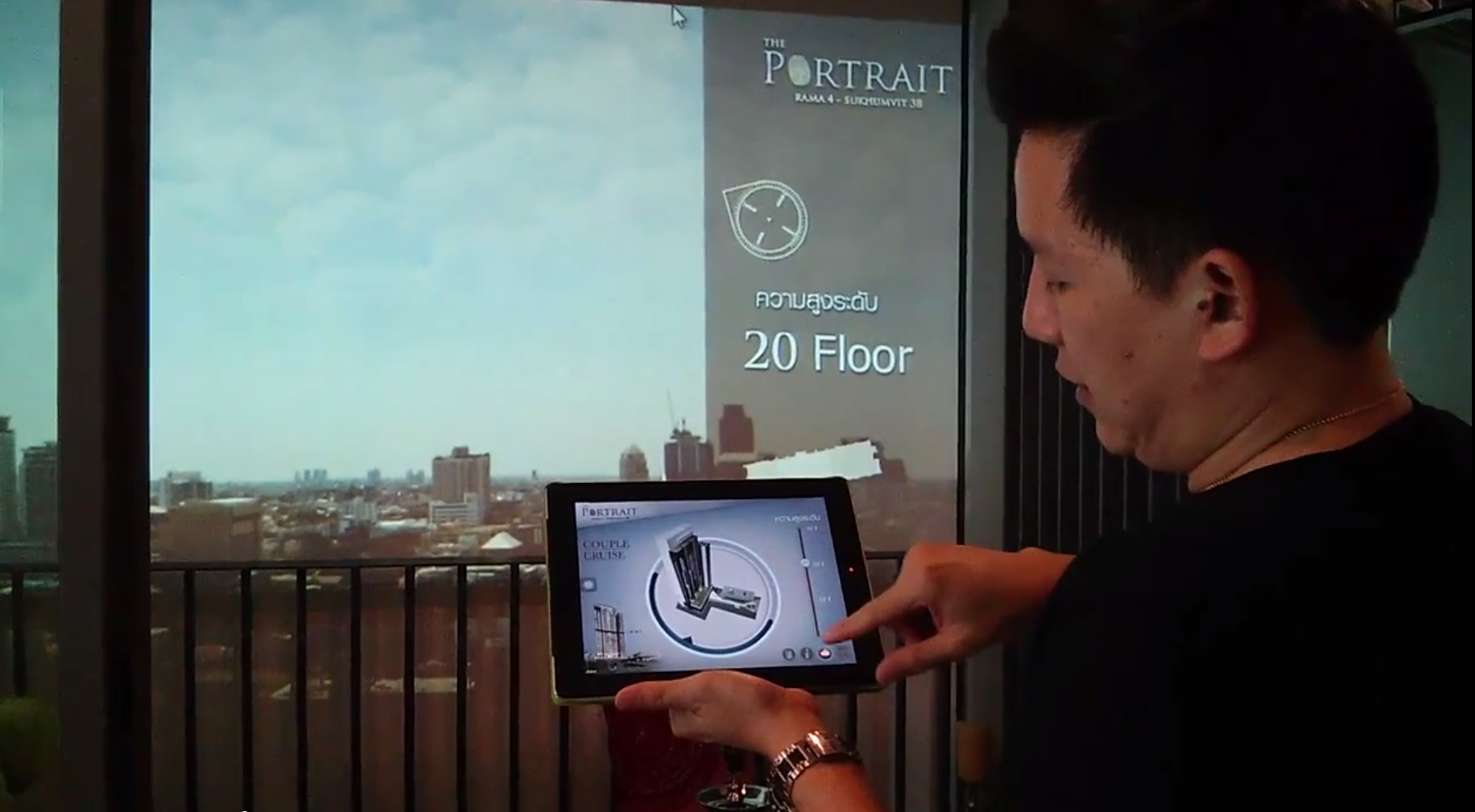 At the second digital showcase, guests are given a panoramic view from the top. Spherical panorama photos were taken by attaching an SDSLR camera to a remote-controlled helicopter that was flown over the building location. The Portrait syncs Shuttle's DS61V1.1 with an iPad-controlled projector to cast images of the city skyline onto a blank wall of the open house. Prospective buyers look on at the simulated balcony window as a sales rep uses an iPad to pan through panoramic views of each unit.
The view is truly a "spherical" panorama and incorporates a full 180⁰ vertical viewing angle as well as 360⁰ around. Prospective investors can see the view from floor to floor, looking to the right or left and even up or down. "It was a lot of work," says Minted Images, "we could've simply used photos from Google earth, but we wanted to show the real value of Portrait's grand penthouse suite views." The value of Portrait suites increases about 1% per square meter for each floor going up.
At the final application, The Portrait offers a mobile booking status system that gives potential buyers a clear picture of which units are available. An additional DS61V1.1 is mounted to the back of a large panel display to show booking status and also acts as a server to integrate booking status with the touch-screen and iPad platforms. The server is online and allows all online-connected devices to stay synchronized with real-time booking status info from anywhere in the world. The Portrait can now make a sale at a demo in Singapore or Malaysia and any changes to the booking status will automatically update across all platforms.

Quarterly sales results have seen a near 50% increase across most unit categories. The digital solutions present a modern and high-tech image of The Portrait to its clientele. In addition, the touchscreen solutions have reduced the amount of time to close sales by 30% as interactive screens have made it easier for prospective buyers to understand the project concept and for sales to close deals.
And finally, "The showcases are just more fun." states Mr. Santiganjanatorn. They offer a better customer experience as clients get to play with the systems and interact with the information on both the kiosk and the projected panoramic view. As a result The Portrait now maintains higher levels of customer engagement throughout the buying process.

Chosen for its high-performance, Shuttle's DS61V1.1 is compact and VESA mountable, 24/7 certified with a heat pipe and smart fan cooling system for long-term operation.
---
O компании Shuttle
Компания Shuttle Inc. (код на фондовом рынке: 2405) занимается интеграцией программного и аппаратного обеспечения, а также IoT для решения коммерческих потребностей вертикального рынка. Компания производит мини-ПК, мультимедийные проигрыватели, решения digital signage, киоски, системы распознавания лиц и услуги кастомизации IoT под индивидуальный проект. Благодаря постоянным исследованиям новых технологий, используя опыт пользователей в качестве приоритета, Shuttle постоянно предлагает разнообразные решения, помогающие клиентам создавать больше возможностей для бизнеса.
Contact US
Marketing Dept.
No. 30, Lane 76, Rei Kuang Rd.,
Nei-Hu Dist., Taipei, Taiwan
Tel: +886-2-8792-6168
Fax: +886-2-8792-6268
E-mail:
shuttlepr@tw.shuttle.com