Shuttle Computex a Great Success
2014/06/26
Taiwan / Event News

TAIPEI, TW – Computex, the world's second largest computer tradeshow, once again drew out the crowds as over 130,000 visitors walked through the halls to see the latest IT innovations from the over 5,000 booths. The Shuttle showcase was no exception as hundreds of local and international visitors came through to see Shuttle's newest products and enjoy in-depth conversation with representatives. Shuttle displayed products from its application PC center, digital education solution, and its notebook and tablet ODM platforms.

Application PC Center
The full product line of Shuttle's application PC center was on display, including slim, AIO, and mini PCs for digital signage, kiosk, and POS application, NAS devices for home and small office use, the XPC series, as well as its recently developed biometrics solution.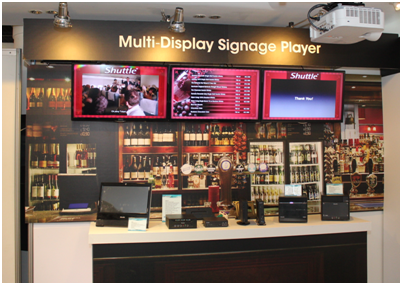 (left) It's apparent that Shuttle is making a major push towards the digital menu board segment with a full selection of media players fit to operate in restaurant settings. Shuttle offers various 24/7 solutions built with fanless design so as to not draw in dust or other dirt particles common in restaurant environments.
(right) New at Computex this year were Shuttle's ARM-based signage solutions, a cost effective, fanless media player and motherboard, both made to support Android signage software. The ARM solutions feature a low-power consumption Freescale i.MX6DL 1Ghz dual-core processor with Full HD (1080p) graphics capability.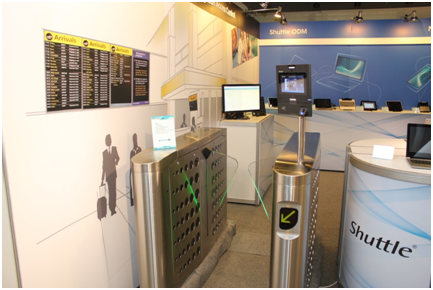 Also new at this year's show was the new 3-liter media player made to power up to three screens, significantly driving down the cost of multi-screen signage systems.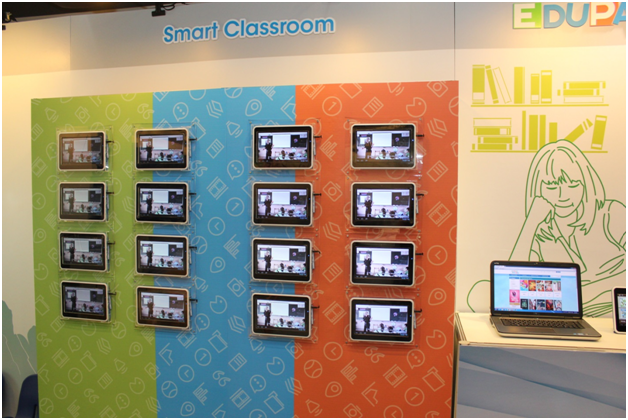 Guests at the show were interested to see Shuttle's HR70, the only turnkey biometrics solution of its price range on the market. It includes facial recognition, fingerprint scan, and RFID features with globally recognized biometrics software. The solution is currently in use at the Kaohsiung International airport customs gate to enhance border control security and was exhibited at the show with updated software.

EDUPAL Education Solution
Shuttle launched the latest version of their digital education software, EDUPAL® 2.0, at the show. EDUPAL 2.0 comes in three packages, made for Classroom, School, and Government use. In short, it's a digital management tool made to sync information in educational systems. For the classroom system, EDUPAL allows teachers to interact with and manage up to fifty student tablets from a PC or tablet device. For school systems, it syncs administrators, teachers, students, and students' parents on a cloud-based platform with optional E-library and Homework interfaces. And finally, for government clients EDUPAL integrates both school and classroom products into a comprehensive administration tool to help manage school information of multiple school districts.


Notebook and Tablet ODM platform
Shuttle's ODM business has mostly focused on the Local OEM (LOEM) sector since its launch in 2010, however, this year's tradeshow generated a large turnout of international visitors interested in the ODM ecosystem. Besides the ARM-based tablets and Netbooks, new from Shuttle ODM this year are a series of Intel® X86-based Android tablets and AIO, Linux tablets, and 2-in-1 tablets X86-based compatible with Windows 8/8.1 and Android operation systems.
---
O компании Shuttle
Компания Shuttle Inc. (код на фондовом рынке: 2405) занимается интеграцией программного и аппаратного обеспечения, а также IoT для решения коммерческих потребностей вертикального рынка. Компания производит мини-ПК, мультимедийные проигрыватели, решения digital signage, киоски, системы распознавания лиц и услуги кастомизации IoT под индивидуальный проект. Благодаря постоянным исследованиям новых технологий, используя опыт пользователей в качестве приоритета, Shuttle постоянно предлагает разнообразные решения, помогающие клиентам создавать больше возможностей для бизнеса.
Contact US
Marketing Dept.
No. 30, Lane 76, Rei Kuang Rd.,
Nei-Hu Dist., Taipei, Taiwan
Tel: +886-2-8792-6168
Fax: +886-2-8792-6268
E-mail:
shuttlepr@tw.shuttle.com