Shuttle showcase draws a crowd at InfoComm, China 2014
2014/05/06
Global / Event News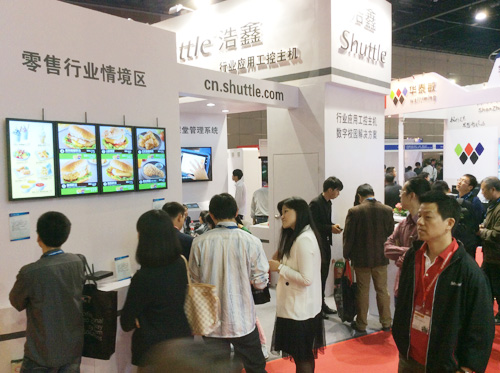 InfoComm China 2014 was busier than ever as over 20,000 visitors from around the globe came out to see the latest innovations in Pro-AV and Information Systems Technology. Among the many exhibitors present, Shuttle's booth was exceptionally well attended as thousands showed up to see its newest digital signage and education solutions.

This year's InfoComm was the debut of Shuttle's newly launched ARM-based media player series for Digital Signage. The new Android compatible players are equipped with a Cortex-A9 1GHz dual-core processor and support 1080P Full HD video content. Shuttle's ARM player was used to power a Digital Menu Board and gained interest from many integrators looking for an affordable media player that can run on Android OS. The new ARM series is designed to support multiple peripherals with Mini USB 2.0, USB 2.0, COM port, LAN, 802.11b/g/n wireless networks, HDMI, and VGA ports.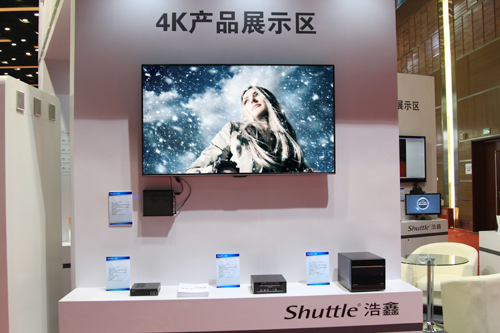 Also on display were Shuttle's high performance 4K media players, the one-liter DS81C and three-liter XH81, both able to support 4th generation Intel® i3/i5/i7 processors. The one-liter DS81C was mounted to a 57" screen to display crystal clear 4K image quality. While Shuttle's 4th generation media players may differ in size and I/O port (XH81 supports up to 5 COM ports), both proved to be easily integrated into commercial applications with limited space and deliver crystal clear video content seamlessly.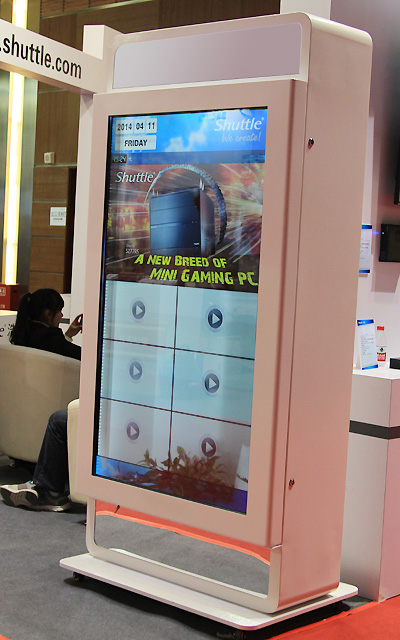 Shuttle's SZ87R6 miniPC was applied to a self-service kiosk with a transparent touchscreen LCD panel; the DS81 and XH81 slim PCs are also able to support such technology. Shuttle worked with its partner to build a large transparent LCD touchscreen. Transparent LCD displays are increasingly used as an advertising tool to engage viewers in retail environments.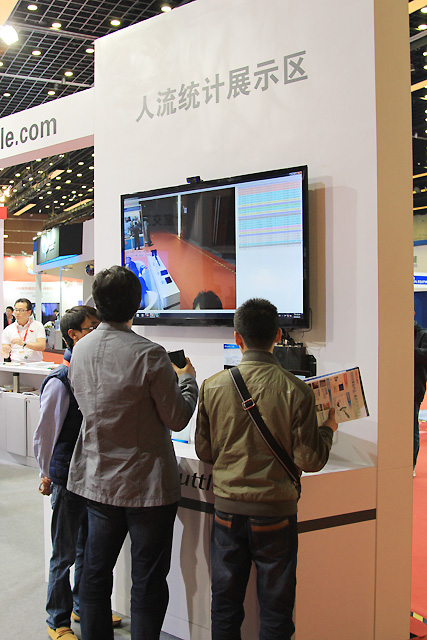 In addition, InfoComm China 2014 was the first time Shuttle combined digital signage with anonymous video analytics (AVA). A high-performance signage player with high resolution cameras supported AVA software to rapidly collect demographics data on customers, including age and gender. With viewer analytics-synced digital signage, advertisers are able to collect valuable information on ad reach as well as more specifically target viewers as signage content changes in real-time depending on who is in front of the screen.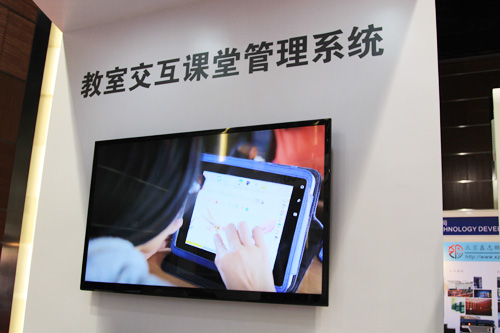 Shuttle also drew in a large crowd from the Education industry with is education solution, EDUPAL, a multi-tiered software platform. EDUPAL is designed to streamline and sync education systems processes, from classroom management to digital libraries. Shuttle gave live demos of EDUPAL's classroom management system and provided visitors an interactive experience of the tablet synced classroom environment.
---
O компании Shuttle
Компания Shuttle Inc. (код на фондовом рынке: 2405) занимается интеграцией программного и аппаратного обеспечения, а также IoT для решения коммерческих потребностей вертикального рынка. Компания производит мини-ПК, мультимедийные проигрыватели, решения digital signage, киоски, системы распознавания лиц и услуги кастомизации IoT под индивидуальный проект. Благодаря постоянным исследованиям новых технологий, используя опыт пользователей в качестве приоритета, Shuttle постоянно предлагает разнообразные решения, помогающие клиентам создавать больше возможностей для бизнеса.
Contact US
Marketing Dept.
No. 30, Lane 76, Rei Kuang Rd.,
Nei-Hu Dist., Taipei, Taiwan
Tel: +886-2-8792-6168
Fax: +886-2-8792-6268
E-mail:
shuttlepr@tw.shuttle.com