Shuttle XPC SN68PTG6 Deluxe Gains "APC Highly Recommended" Award
2008/02/01
Australia / Awards & Review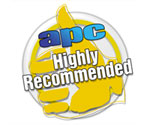 APC is Australia's most influential computer magazine for power users and IT professionals.
Shuttle XPC Glamor SN68PTG6 Deluxe is proud to be awarded as APC "Highly Recommended" honor for its powerful graphics chipset and CPU. The editor was impressed by its outstanding features, such as HDMI and low-noise computing ability. He also praised its rich of extras, including fingerprint reader, front-mounted USB, FireWire, Speed Link, Wi-Fi and Bluetooth.

Users can easily enjoy a complete entertainment experience with visually stunning HD video delivered through HDMI output and the finest cinematic surround sound effects by Dolby® Digital Live! and DTS™ Connect. The XPC Glamor SN68PTG6 Deluxe is truly "a HTPC with a great graphics chipset and gutsy CPU.", APC recommended.

---
About Shuttle
Shuttle Inc. (TAIEX 2405), первый в мире производитель баребон-компьютера малого форм фактора, основан в 1983 г. на Тайване. Линия продукции охватывает мини-ПК, AIO, ноутбуки, планшеты для дома и управления бизнес-решениями: Digital Signage, POS, киоски/терминалы, корпоративные решения и др. А также IOT решения, умный дом, программно-аппаратный комплекс - Биометрическая система распознавания лица, ПО решение HOCA для здравоохранения и др.
Contact US
Marketing Dept.
No. 30, Lane 76, Rei Kuang Rd.,
Nei-Hu Dist., Taipei, Taiwan
Tel: +886-2-8792-6168
Fax: +886-2-8792-6268
E-mail:
shuttlepr@tw.shuttle.com