XPC SN95G5: 'An exceptional product'
2004/10/28
Global / Review / VR-Zone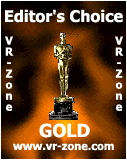 The VR-Zone, Asia's top English-launguage computer hardware news, views and review site, has spent a month testing and tweaking Shuttle's hot-selling XPC SN95G5. And, the verdict? Reviewer Paul Jastrzebski had this to say:

"After more than a month of using the SN95G5 not only for testing but also as my own personal rig, it is very easy for me to say that Shuttle has an exceptional product in the SN95G5. Fundamentally, the SN95G5 has all the features and performance numbers found on the very best nForce 3 Ultra motherboards but is able to pack everything into a small great looking box."
The XPC SN95G5 packs the award-winning performance of NVIDIA's nForce3 Ultra chipset making it the most-powerful AMD Athlon 64 compatible small form factor computer money can buy. Its 1GHz HyperTransport-enable system bus seamlessly keeps data moving, while Shuttle's fourth-generation ICE (integrated cooling engine) module keeps critical system components cool and operating efficiently.

"From our testing, the SN95G5 is as fast and even at times slightly faster than the best Socket 939 retail motherboard that we've seen so far," said Jastrzebski. "The upgraded ICE cooling unit we saw was able to maintain our AMD Athlon 64 3800+ at around 40C during casual usage." The XPC SN95G5 excellent performance and superior ergonomics—low noise and heat, small size and design metrics—have made it an instant sensation with users worldwide.
---
About Shuttle
Shuttle Inc. (TAIEX 2405), первый в мире производитель баребон-компьютера малого форм фактора, основан в 1983 г. на Тайване. Линия продукции охватывает мини-ПК, AIO, ноутбуки, планшеты для дома и управления бизнес-решениями: Digital Signage, POS, киоски/терминалы, корпоративные решения и др. А также IOT решения, умный дом, программно-аппаратный комплекс - Биометрическая система распознавания лица, ПО решение HOCA для здравоохранения и др.
Contact US
Marketing Dept.
No. 30, Lane 76, Rei Kuang Rd.,
Nei-Hu Dist., Taipei, Taiwan
Tel: +886-2-8792-6168
Fax: +886-2-8792-6268
E-mail:
shuttlepr@tw.shuttle.com