Leading UK business publication recommends the Shuttle XPC SD31P
2005/07/22
Global / Awards & Review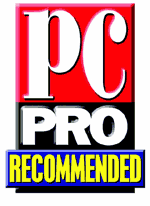 With a readership measured in the tens of thousands and a reputation for comprehensive and authoritative product testing, PC Pro is an invaluable IT resource for the technically experienced business professional. In its latest issue, reviewer Roger Kirkwood gave an exclusive account of the features that make the XPC SD31P a great choice for businesses in need of a scalable, easy to deploy PC system with the performance to tackle modern productivity tasks with ease.

Some of the highlights of the XPC SD31P featured in the review include Shuttle's innovative toolless design that makes installing components quick and easy, and its exclusive Silent X technology that helps keep the system cool, even under load, without generating excess noise.

Also mentioned was the XPC SD31P's support for external SATA (eSATA) hard disks enabling it to extend the increased speed and performance benefits of SATA 3Gb/s to your removable storage devices.

The final verdict was that the XPC SD31P is "...small, quiet and easy to build, but the best thing about the SD31P is that it brings the advantages of dual-core computing to busy desktops."
---
About Shuttle
Shuttle Inc. (TAIEX 2405), первый в мире производитель баребон-компьютера малого форм фактора, основан в 1983 г. на Тайване. Линия продукции охватывает мини-ПК, AIO, ноутбуки, планшеты для дома и управления бизнес-решениями: Digital Signage, POS, киоски/терминалы, корпоративные решения и др. А также IOT решения, умный дом, программно-аппаратный комплекс - Биометрическая система распознавания лица, ПО решение HOCA для здравоохранения и др.
Contact US
Marketing Dept.
No. 30, Lane 76, Rei Kuang Rd.,
Nei-Hu Dist., Taipei, Taiwan
Tel: +886-2-8792-6168
Fax: +886-2-8792-6268
E-mail:
shuttlepr@tw.shuttle.com