XPC SN26P 'Premium Grade Approved' by Leading UK Modding Enthusiast's Magazine
2005/10/05
Global / Awards & Review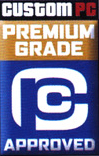 In this month's issue of modding enthusiast's magazine Custom PC, reviewers put to the test Shuttle's claim that its new XPC SN26P is 'the ultimate gaming system'.
Forcing the XPC through a number of extreme benchmark tests including an overnight run of popular 3D game Far Cry, reviews found that "The XPC SN26P barely broke sweat, returning the correct performance results for each test, even after running them all 7 times each."

Comparisons of the XPC SN26P to a full-size tower system proved that reducing the XPC to 1/3 the size of a regular desktop PC, did not cost anything in performance with both systems returning equal results. In conclusion Custom PC said, "With the XPC SN26P, Shuttle has proven that a kick-ass gaming system can be done in miniature," and gave the XPC their Premium Grade Approved Award.
---
About Shuttle
Shuttle Inc. (TAIEX 2405), первый в мире производитель баребон-компьютера малого форм фактора, основан в 1983 г. на Тайване. Линия продукции охватывает мини-ПК, AIO, ноутбуки, планшеты для дома и управления бизнес-решениями: Digital Signage, POS, киоски/терминалы, корпоративные решения и др. А также IOT решения, умный дом, программно-аппаратный комплекс - Биометрическая система распознавания лица, ПО решение HOCA для здравоохранения и др.
Contact US
Marketing Dept.
No. 30, Lane 76, Rei Kuang Rd.,
Nei-Hu Dist., Taipei, Taiwan
Tel: +886-2-8792-6168
Fax: +886-2-8792-6268
E-mail:
shuttlepr@tw.shuttle.com