2007 году на выставке Computex в Тайбэе Shuttle запускает 3 серии продуктов
2007/06/05
Global / Объявление Продуктов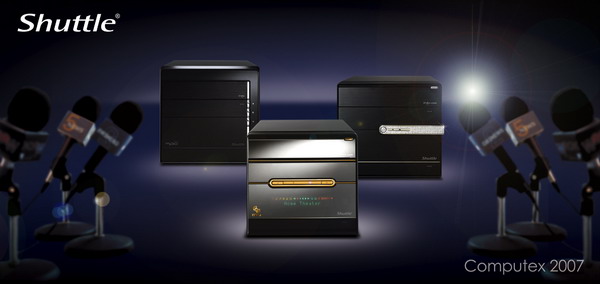 (5 июня 2007 г., Тайбэй, Тайвань.) Компания На Computex 2007 Shuttle запускает 6 моделей 3-х новых серий продукции, включая новую серию – D'VO, обновленную классическую серию XPC – XPC Prima, и серию XPC Glamor. Каждый из новых продуктов предназначен для удовлетворения уникальных требований пользователей.
XPC Glamor Series
High-define your vision! For users who crave optimum PC, XPC Glamor Series is the code word of Shuttle art crafts. The three different styles chassis - elegant G5, the new luxury G6, and concise G2 are defined, no matter for home or office usage, for lively or refined people, everyone deserves to have their own XPC Glamor.

The XPC Glamor SG33G5, based on the Intel® G33 Express chipset, is designed for the upcoming Intel® 45nm Core™2 multi-core processors platform. Featuring Intel® Graphics Media Accelerator 3100 with Intel® Clear Video Technology functionality provides high-quality video playback and sharp image quality enables a richer graphics experience. Sit back and enjoy a complete entertainment experience with visually stunning HD video delivered through HDMI output and the finest cinematic surround sound effects delivered by Dolby® Digital Live! and DTS® CONNECT functionality.

The extraordinary chassis with glitter Swarovski Crystals strap panel embellishes the XPC Glamor SN68PTG6 Deluxe black cube surpassingly luxury and stare dumb-founded. Featuring the unprecedented performing integrated graphics solution on the market, the NVIDIA® GeForce® 7050 PV / NVIDIA nForce® 630a, the Shuttle SN68PTG6 Deluxe delivers extensive high-def video and audio capabilities to enable the latest high-definition digital multimedia systems. The Shuttle SN68SG2 is designed for the latest 65nm AM2 multi-core processor platform, the NVIDIA® GeForce 7025 chipset delivers best-in-class 3D performance and leading graphics compatibility to play top games the way they are meant to be played.

For more information visit the www.shuttle.com, Computex 2007 web page.
Shuttle Inc. Headquarter Media Contact: shuttlepr@tw.shuttle.com

Shuttle Booth
E067, E069, E084, E086, Hall 2, Taipei World Trade Center
9:30 am – 6:00pm, June 5 – 8, 2007
9:30 am – 4:00pm, June 9, 2007

Shuttle VIP Lounge
6F, New York New York Shopping Mall
9:30 am – 6:00pm, June 5 – 8, 2007

Shuttle Press Conference
6F, New York New York Shopping Mall
1:00pm – 3:30pm, June 7, 2007
Related Products:
---
About Shuttle
Shuttle Inc. (TAIEX 2405), первый в мире производитель баребон-компьютера малого форм фактора, основан в 1983 г. на Тайване. Линия продукции охватывает мини-ПК, AIO, ноутбуки, планшеты для дома и управления бизнес-решениями: Digital Signage, POS, киоски/терминалы, корпоративные решения и др. А также IOT решения, умный дом, программно-аппаратный комплекс - Биометрическая система распознавания лица, ПО решение HOCA для здравоохранения и др.
Contact US
Marketing Dept.
No. 30, Lane 76, Rei Kuang Rd.,
Nei-Hu Dist., Taipei, Taiwan
Tel: +886-2-8792-6168
Fax: +886-2-8792-6268
E-mail:
shuttlepr@tw.shuttle.com